3 Juices And What To Eat To Soothe Tummy Troubles
Last updated on
Every one of us will experience a stomach upset of some kind, at one point or another. It would be handy to have a natural remedy close at hand when we encounter nausea, vomiting, or just a slight stomach discomfort from eating the wrong food.
Have you ever considered drinking freshly-extracted juices to ease the discomfort, instead of popping another pill? Definitely AVOID taking these pills that will only help ease the discomfort temporarily, but cause long-term side effects: Antacids, anti-diarrheal, laxatives, stimulants, etc.
Making your own juices with the right, fresh ingredients get to the root of the problem and reduce future attacks. Some of the beneficial ingredients that you could use include:
Now that you know which ingredients to look for, here are 5 juice recipes that utilize these foods for a refreshing, stomach soothing juice.
1. Beet Tummy Trouble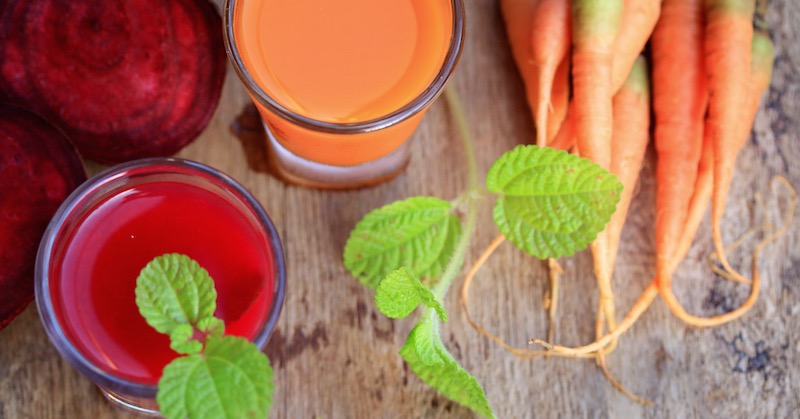 This juice recipe helps flush toxins from your digestive system and calms the stomach. To prepare this juice to "beet" tummy trouble, put all the following ingredients through your juicer:
2 beetroots
5 carrots
1 lemon, peeled
1-inch of fresh ginger root
2. Fennel In The Sun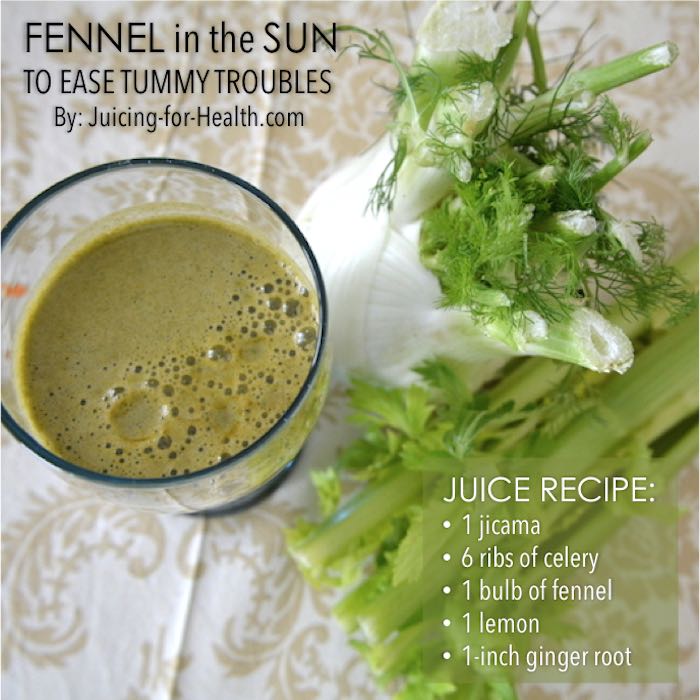 Fennel is one of the ingredients that could help deal with your stomach pains. Here's a delicious juice combo that may be helpful to ease that discomfort. Put all the ingredients through your juicer:
1 jicama
6 ribs of celery
1 bulb of fennel
1 lemon
1-inch of fresh ginger root
3. Cabbage Delight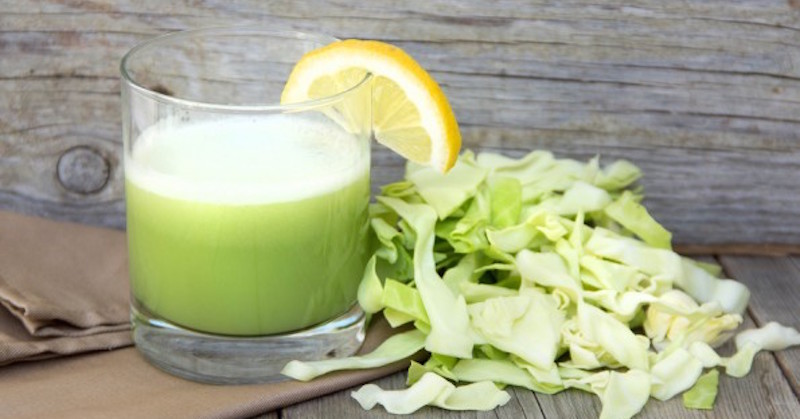 This juice recipe is excellent to soothe digestive troubles caused by stomach ulcers. Drink this juice daily for two weeks and see a big improvement to your digestive troubles. Also suitable if you have acid reflux or heartburn. Get the recipe here.
No one enjoys having to put up with an upset stomach. If you experienced bloating, acid reflux, nausea, vomiting, or mild stomach discomfort, any of these juice recipes may be helpful. Always use organic produce for best results. If the problem persists, seek help from your professional health provider.
Sources:
http://juicing-for-health.com/health-benefits-of-ginger
http://juicing-for-health.com/health-benefits-of-cabbage

Some of the links I post on this site are affiliate links. If you go through them to make a purchase, I will earn a small commission (at no additional cost to you). However, note that I'm recommending these products because of their quality and that I have good experience using them, not because of the commission to be made.