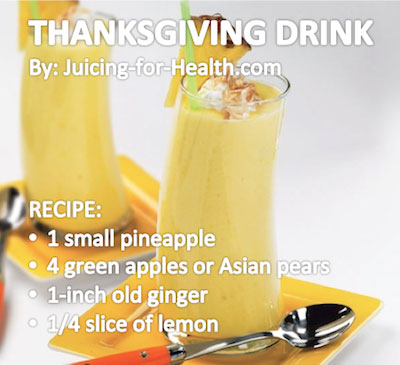 For Thanksgiving, wow your family with this "juicy punch". Pineapple + apple/pear juice instead of an alcoholic drink. Serve cold in a pretty cocktail glass.
Recipe serves two (multiply accordingly for the number of people):
1 small pineapple
4 green apples or Asian pears (not too ripe)
1-inch old ginger
1/4 slice of lemon
Pineapple juice helps with your digestion from eating all that heavy, sumptuous meal. Apples/pears keep your body alkalinity balanced. A tinge of ginger gives you that extra kick and keeps you warm. Lemon is simply detoxifying.
If you like … line the brim of your glass with some sea salt grain … Simply lovely!
Read more about the health benefits of pineapple.