Taro Plaster: Shrink And Dissolve Cysts And Fibromas With This Traditional Remedy
Last updated on
If you suffer from a fibroma or a cyst you can try this easy and effective natural remedy that has been used for centuries in Japanese traditional medicine.
Taro root (latin Colocasia Esculenta) is an edible corm from the family of Araceae plants. CORM (not corn), is basically a thickened underground stem where the plant stores its nutrients.
Grown in tropical regions, taro root has a powerful "toxin-drawing" ability. It can be used to "draw out" poisonous wastes stored in the body's cells.
Health Benefits Of A Taro Plaster
Taro packs or taro plasters can be used to ease aches and pains, in particular:
To treat cysts, fibromas (benign tumors) and lymphatic swelling
Taro compress packs can reduce inflammation of any kind
Taro can be used to facilitate the healing process in cases of injuries such as broken bones, joint sprains and strains, or arthritic joint pains
Applying a taro pack behind the ear can relieve ear problems
Step-by-Step Guide To Make A Taro Root Plaster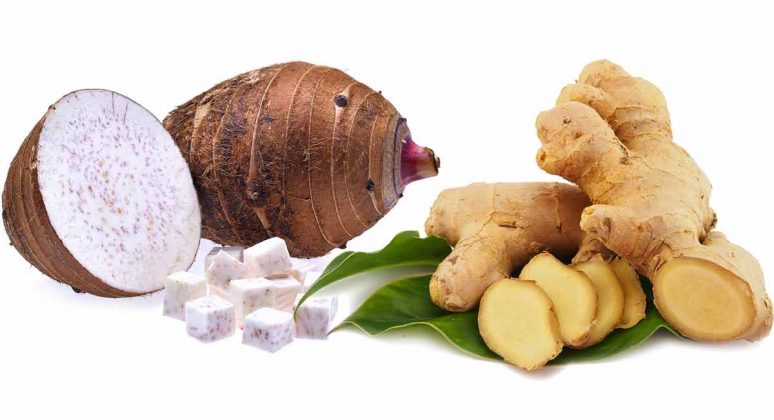 For this taro plaster remedy you will be using two different separate treatments: a ginger compress followed immediately by a taro plaster.
What You Need To Make A Taro Plaster
For the taro plaster compress:
For ginger compress:
120g of fresh ginger root or 1 tablespoon of powdered ginger.
A large pan with lid.
1 liter of water
A grater
1 large towel and 2 hand cloths.
A small cotton bag with string to close it..
Rubber gloves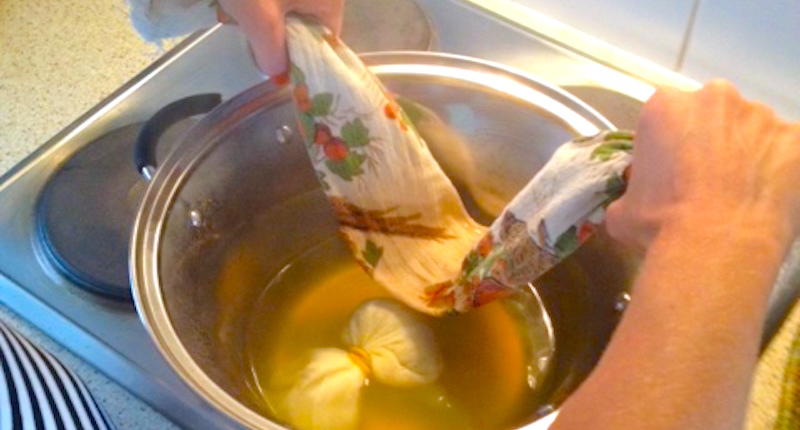 Preparing Your Taro Plaster
You will apply the taro plaster immediately after the ginger compress, so have both remedies ready before you begin.
Step 1: Ginger Compress (5 Minutes):
First apply this hot ginger compress but for five minutes only.
The ginger compress will stimulate circulation and prepare the affected area for a more effective taro plaster treatment.
Step 2: Apply The Taro Plaster:
Peel the outer brown skin off the taro root with a flat grater, discarding the skin.
Grate the inner white inner taro root and mix with 5% grated ginger root.
Place a half-inch layer of this mixture straight on the skin and cover it with a linen cloth.
Use the bandage to hold the mixture firmly in place.
Leave the taro plaster in place for 4/5 hours. This allows time for the treatment to take affect.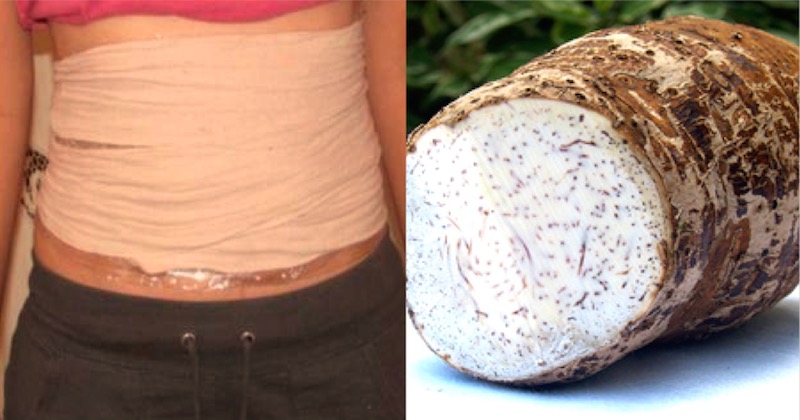 FAQ On Use Of Taro Plaster
How long do I need to carry on the taro plaster treatment?
For an effective treatment, you will need to apply this plaster every day for at least two weeks.
Tip: Given the duration and frequency of the treatment, it is important you securely fasten the plaster in place, and make sure that it is comfortable. This will allow you to carry on with your daily chores.
Where to buy taro/albi root?
Taro root can be found in natural food stores, Chinese or Armenian groceries or Asian stores. Taro (a.k.a. albi or kalo) is similar to a yam, though its skin is hairy and dark brown. For our purposes it is advisable to pick smaller tubers rather than the big ones, because they are believed to be more effective for plasters.
What if I can't find any taro?
If you cannot find taro you can use a normal potato: grate a potato and crush some green leafy vegetables. Kale is a good option. Mix together in equal proportions. You can then apply this mixture to the affected area like a normal taro plaster.
Some of the links I post on this site are affiliate links. If you go through them to make a purchase, I will earn a small commission (at no additional cost to you). However, note that I'm recommending these products because of their quality and that I have good experience using them, not because of the commission to be made.