One of my favorite things about summer is all those bright and fresh fruits and vegetables that come with the season! Come summer, I crave tasty, light, fresh juices that are rich with nutrients from fruits, vegetables, and herbs. There are hundreds of yummy combinations you can try with your juicer. This particular combo combines the unique taste of cilantro (a.k.a. coriander leaves), the rich minerals of cucumber, and the fragrant sweetness of pineapple.
Health Benefits Of This Juice Combo
Each of these ingredients are picked as their tastes compliment each other really well. When combined, they work synergistically to benefit your body in so many ways:
Promotes digestive health
Reduces oxidation of cholesterol and improves cardiovascular health
Lowers blood pressure
Supports healthy digestion
Minimizes anxiety and promotes restful sleep
Helps the body detoxify from heavy metals
Improves skin condition
Improves vision health
Reduces inflammation and oxidative stress
Reduces water retention
Boosts immune system
Improves sleep quality
And many more!
This juice recipe is very light and refreshing, so it's a good way to wind down from the day. Drinking this juice two hours after a huge festive meal may help to increase and improve digestion. There are no hard and fast rules to the ingredients. Tweak the amounts to suit your tastes.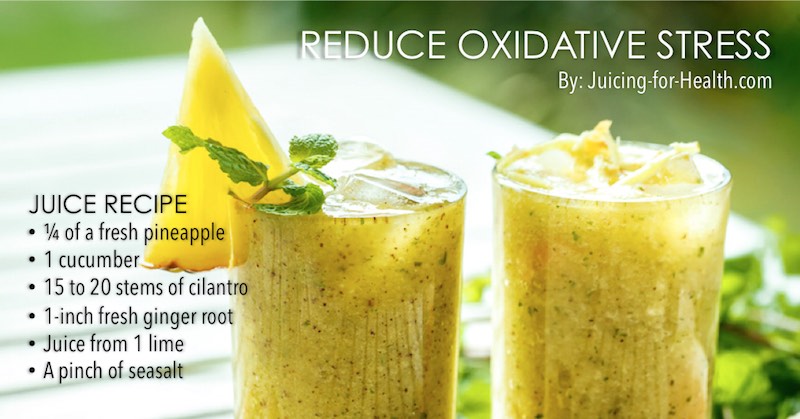 Ingredients
Whenever possible, use organic local produce when juicing. This maximizes the health benefits while minimizing the pesticides that you are exposed to. 
¼ of a fresh pineapple, remove skin but with core intact
1 cucumber
15 to 20 stems of cilantro, depending on your taste
1-inch fresh ginger root
Juice from 1 lime
A pinch of seasalt to enhance taste and for better retention of nutrients (optional)
Steps
Now that you have your ingredients recipe, follow these steps to enjoy a glass of pineapple cilantro juice.
Add all of the ingredients but the lime juice to your juicer or blender.
Juice or blend. If you are using a blender, pulse until smooth.
When the other ingredients are mixed, add the lime juice.
Add ice or enjoy as is.
Juicing is just one part of a holistic, healthy lifestyle. With recipes like this one, you can hit your nutritional goals while avoiding artificial sugar and chemical-laden drinks.
Caution: Not suitable for diabetics.
Sources:
http://www.livescience.com/45487-pineapple-nutrition.html
http://www.thenourishinggourmet.com/2012/04/dreaming-of-summer-pineapple-cilantro-lime-juice.html
http://www.stylecraze.com/articles/best-benefits-of-cilantro-for-skin-hair-and-health/