When the climate gets colder in the Northern Hemisphere where I am. On very cold days, I like a drink that warms the body and I've found just the perfect combo.
The ingredients in this combo are very cleansing and detoxifying to the liver and kidneys, and at the same time the pungentness warms up the body for many hours after consuming it.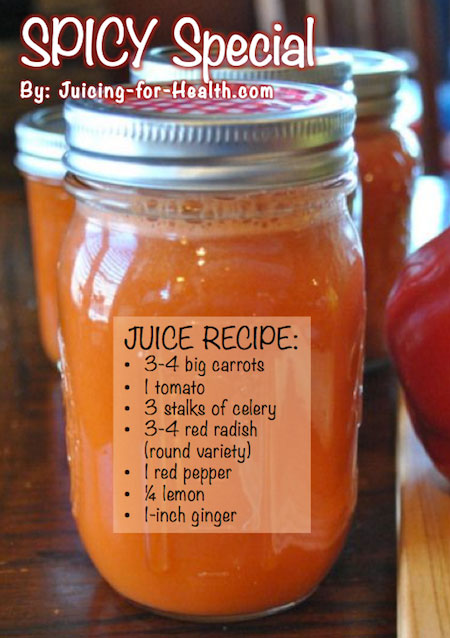 Some of the other health benefits of this delicious drink:
Promotes bile production that improves digestion
Relieves respiratory disorders
Regulates blood pressure
Strengthens liver and kidney health
Helps clear up skin disorders
Builds and strengthens immunity system
Has antibacterial and antifungal porperties
Heals the digestive system, thus reduces excessive flatulence, gas and bloating
Improves and strengthens vision health
And many more!!
.
Juice Recipe:
3-4 big carrots
1 tomato
3 stalks of celery
3-4 red radish (round variety)
1 red pepper
¼ lemon
1-inch ginger
Note: Reduce amount of radish and ginger if you don't like it too spicy. Reducing these will also reduce the warming effect of the juice.
Read more about the health benefits of radish, carrot and celery.