The Sage And Apple Cider Vinegar Rinse That Darkens Grey Hair
Last updated on
Although you might not feel like your age, your hair will betray you. Personally, I've been getting grey hairs since I was a teen. However, over the past few years, more and more of those pesky greyish-white streaks have been sneaking in.
My hair is very dark and I'm not quite ready to let it all show at the moment. I don't want to get into harsh chemical dyes, so I decided to try a natural way to cover up my grey … Sage!
Sage has many health benefits. It's known to soothe sore throats, ward off inflammation, treat depression, strengthen teeth and gums, plus much more. It's also very tasty on poultry and root vegetables.
Sage is good for your skin and hair. It's been used since ancient times to combat baldness and stimulate hair growth. It's a natural hair tint for dark hair. Sorry, this is for brunettes only! It won't completely cover up grey hairs, but it will darken it over time, blending in with your natural hair color.
Reverse Grey Hair Naturally With This Sage-ACV Rinse
For the sage hair rinse, I added apple cider vinegar. Apple cider vinegar works wonders for your hair. It helps to restore your pH balance and remove residue build-up in your hair. It's also a great conditioner and detangler.  For this recipe I used plain garden sage (Salvia officinalis). There are several types of salvia and for the most part have the same base properties. I've only used garden sage to darken my hair.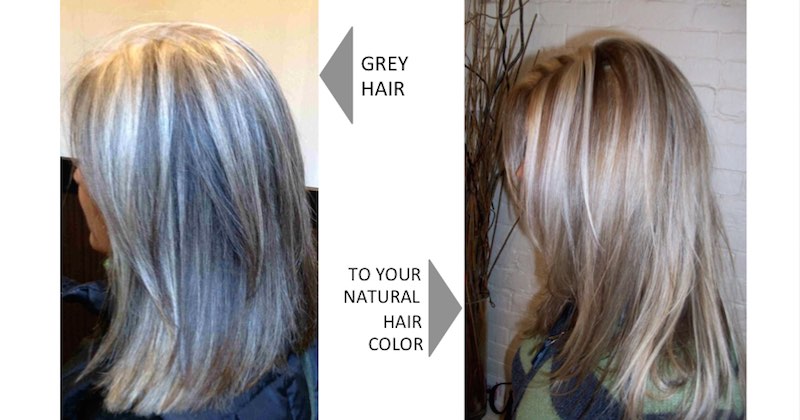 Supplies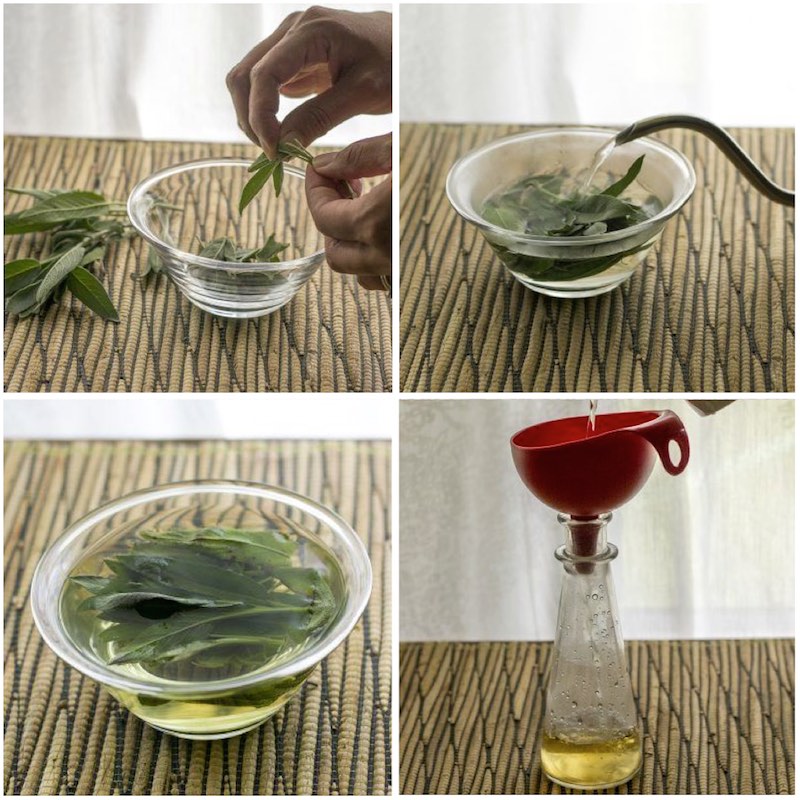 Preparation
Remove the sage from the stems (if using fresh). Tear them up to release their natural oils. Pack the bowl full.
Bring two 2 cups of water to a boil. Remove from heat and pour over herbs.
Steep for 15-20 minutes and let cool. The water will turn a pretty green. If you happen to have a sore throat, save some of the tea and add a bit of honey. Your sore throat will be gone in a jiffy.
Strain the sage tea and add it to the vinegar. Gently give it swirl. I like to use a cruet bottle because it makes it easier to apply to your hair.
How To Use The Sage-ACV Rinse
The sage rinse is best used as a final application after shampooing. Yes, you will smell the vinegar, but the smell will dissipate as your hair dries. I like to hang my head over a basin and pour the rinse over my hair. I then let my hair drain and reuse what is caught in the basin again. I do this several times in a row, then towel dry.
The key to using the sage rinse to darken grey hair is to use it consistently every time you wash your hair. Not only will it darken your greys over time, it will deepen the color of brown or black hair and impart shine to it.
This article is shared with permission from our friends at naturallivingideas.com.
Some of the links I post on this site are affiliate links. If you go through them to make a purchase, I will earn a small commission (at no additional cost to you). However, note that I'm recommending these products because of their quality and that I have good experience using them, not because of the commission to be made.