These Roasted Garlic Cabbage Chips Make For Fantastic Crackers
Last updated on
Bite into this fantastic recipe this summer! This recipe is a great snack that is perfect for when you are craving something savoury. Instead of resorting to crackers or chips that are loaded with sodium and sugar, try this recipe for Roasted Garlic Cabbage Chips.
Health Benefits Of Cabbage
The health benefits of cabbage are plenty. Cabbages are a naturally low-carb food and is fantastic for your body.
Cabbage is an excellent source of vitamin C and is an amazing source of manganese. This makes cabbage an excellent source of antioxidants. This can help protect our body against cancer and prevent other chronic diseases.
Cabbage contributes to bone health and is packed with anti-inflammatory benefits thanks to it's exceeding Vitamin K content.
Vitamin K is also an indicator of your digestive health. This nutrient is only produced when you have healthy bacteria in your gut.
Cabbage juice has been in many studies and has proven to heal stomach ulcers. Cabbage is not only a powerful ingredient for healing stomach ulcers but it can also help aid our entire digestive tract and intestinal lining.
Studies have shown that cabbage's nutrients contain various benefits for our intestinal lining.
Cabbage provides you cardiovascular system with support. This is because cabbage provides us with nutrients that can directly lower our cholesterol.
Read more about the health benefits of red cabbage.
This recipe is shared with permission from our friends at drjockers.com.
Roasted Garlic Cabbage Chips Recipe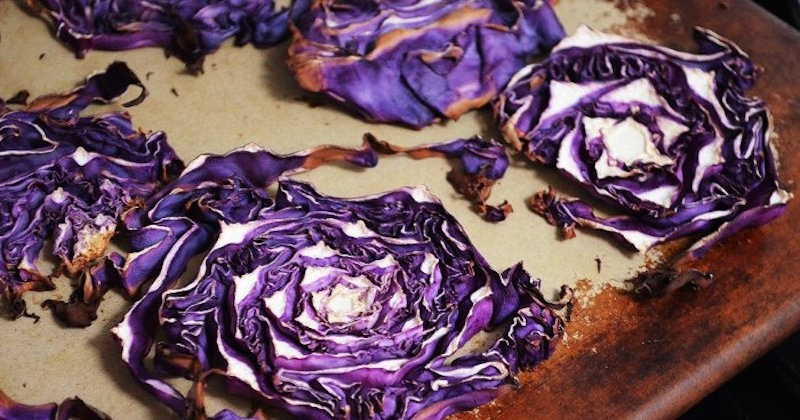 Serves: 2- 3
Prep time: 10 minutes
Cook time: 20 minutes
Ingredients:
1 large head of cabbage (red or green)
3 tbsps of extra-virgin olive oil
5 cloves of chopped garlic
Pink salt and black pepper to taste
Instructions:
Preheat your oven to 400 F.
Brush both sides of each cabbage slice with oil.
Spread the garlic evenly on each side of the cabbage slices, and season them to taste with salt and pepper.
Roast in your oven for 20 minutes; then turn the slices over and roast them again for another 15 minutes or until the edges are crispy.
Don't you love it when you can make a side for dinner that takes very little effort, and everyone loves? I recently tried this roasted cabbage and it turned out perfect! It was actually surprising how much everyone loved the taste and texture of these. Between this and kale chips, you will be set for fast and delicious sides.
Side Note:
Cruciferous veggies such as broccoli, kale, cabbage, bok choy and collard greens, have a compound called indole-3-carbinol which helps your liver detox harmful toxins and estrogen. For balanced hormones and to get rid of PMS, eat cruciferous veggies daily!
Other Notes:
You can flavor these any way you like! Get creative with the spices!
You can use any kind of cooking oil you would like: Butter/ghee, coconut oil, olive oil.
You can use green or purple cabbage
Reference:
https://drjockers.com/roasted-garlic-cabbage-chips/


Some of the links I post on this site are affiliate links. If you go through them to make a purchase, I will earn a small commission (at no additional cost to you). However, note that I'm recommending these products because of their quality and that I have good experience using them, not because of the commission to be made.