Fight Migraines, Weak Muscles And Other Symptoms Of A Magnesium Deficiency With This Powerful Juice
Last updated on
Many people are magnesium deficient and don't know it. Magnesium is stored in our tissues which is why early deficiency symptoms are felt in muscle weakness, tremor and spasm. Only 1% of magnesium is found in blood so they don't show up in blood tests.
Some of the Symptoms of Magnesium Deficiency
Persistent eye twitch (early sign)
Mouth ulcers
Blurred vision
Frequent headaches/migraines
Physical and mental fatigue
Leg cramps
Irregular heart beat
State of confusion, anxiety, depression, suicidal thoughts
High blood pressure
Thick and sticky blood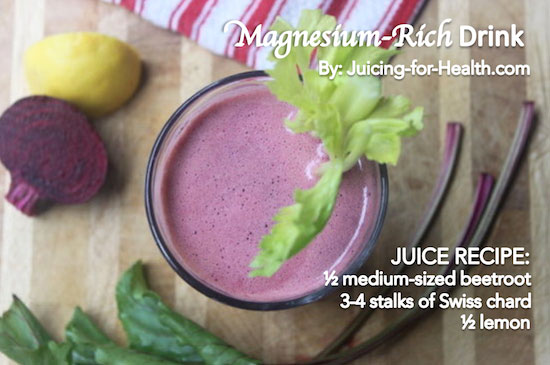 Signs of Severe Magnesium Deficiency
Extreme thirst and hunger
Frequent urination
Wounds and bruises that heal very slowly
Unusual fatigue and mental fog
Tingling or numbness in the limbs
Dry, itchy and scaly skin
Frequent skin, gum bladder and vaginal yeast infections
Did you notice that the signs/symptoms of severe magnesium deficiency are similar to symptoms for diabetes? A severe magnesium deficiency will cause the body to be resistant to insulin.
Our intelligent body in its attempt to regulate blood sugar level will eliminate the increased glucose through the bladder by excessive urination. And because of this, there is a feeling of extreme thirst and hunger which are common symptoms of diabetes. Certain drugs/medications and processed foods are depleting the body of magnesium supply, rendering the body magnesium deficient. Among these are blood pressure meds, antibiotics, antacids, junk foods, coffee, tea and alcohol.
Magnesium is best derived from whole foods. Some examples: Asparagus, avocado, banana, basil, beets, broccoli, Brussels sprouts, Swiss chard, chives, spinach, tomatoes, legumes, oats, cacao, almonds, cashew nuts, pecans, pumpkin seeds, sunflower seeds, sesame seeds and quinoa. See more about magnesium-rich foods.
Make An Easy Magnesium-Rich Drink:
½ medium-sized beetroot
3-4 stalks of Swiss chard
½ lemon
Some of the links I post on this site are affiliate links. If you go through them to make a purchase, I will earn a small commission (at no additional cost to you). However, note that I'm recommending these products because of their quality and that I have good experience using them, not because of the commission to be made.