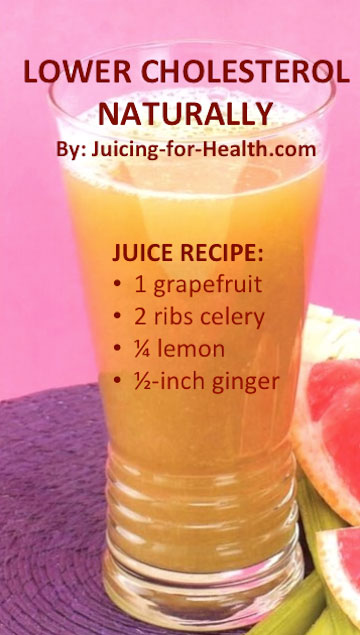 Grapefruit and celery are among the best natural foods for reducing arterial deposits build-up, while strengthening and maintaining the elasticity of arteries.
Among their combined health benefits:
Reduces blood acidity
Helps lower and regulate cholesterol level
Suitable for diabetics in regulating blood sugar level
Helps reduce fever
Promotes good sleep
Reduces starch and sugar in the body, making it ideal for weight-loss
Note:
If you're on any medication, DO NOT consume grapefruit or its juice as it may interfere with the metabolism of the drugs.
Did you know that oxidation is the main culprit of your cholesterol problem? Read more here.
Another juice recipe to reduce inflammation and oxidation of cholesterol.
More juice recipes for almost any ailments.
Juice Recipe:
1 grapefruit
2 ribs celery
¼ lemon
½-inch ginger (optional)
Read more about the health benefits of grapefruit and celery.