4 Juice Recipes To Heal Acid Reflux, Stomach Ulcers, Kill Harmful Bacteria, Boost Immune System
Last updated on
There are many juices that help to naturally relieve bloating, cramping, and most digestive disorders. You just need to choose the right fruits and vegetables. The digestive process involves multiple organs and many processes. If any part of this process is having difficulty, you can experience digestive problems.
By juicing certain produce, the right enzymes help to break down foods, nutrients, and provide relief. Try using these 4 juicing recipes to improve your digestive health:
4 Calming Juices To Heal Digestive Disorders
1. Improve Digestion, Relieve Constipation, Reduce Cramps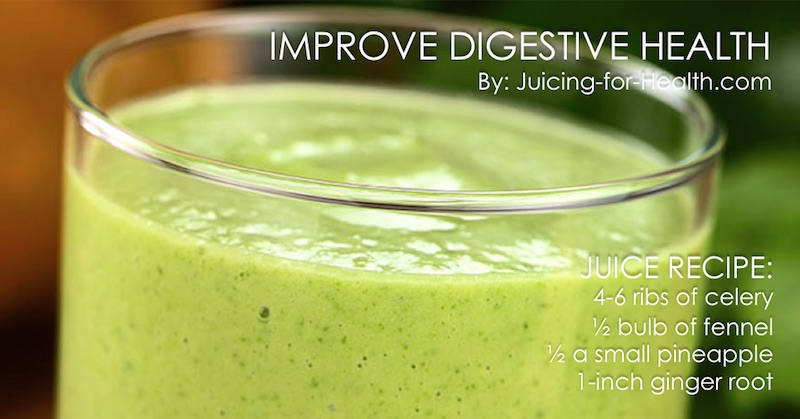 This juice combo helps the ladies deal with menstruation cramps. It is also excellent for recovery from minor muscle injuries. Use celery and pineapple to make a tasty juice:
4-6 ribs of celery
½ bulb of fennel
½ a small pineapple
1-inch ginger root
This combination is high in anti-inflammatory properties, help reduce pains and calm the nerves. Also beneficial for regularity and ease digestive disorders.
2. Heal Acid Reflux, Stomach Ulcers, Calm Digestive System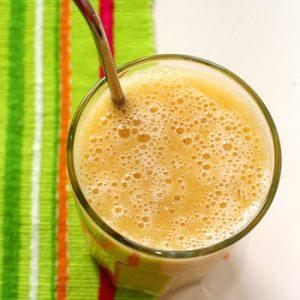 I have recommended this juice combo many times over as I see its effectiveness in healing acid reflux, peptic ulcers and other digestive disorders.
Use organic produce for best results. Wash and cut up these ingredients and put them through your juicer.
½ head of a small cabbage
4-6 ribs of celery
3 large carrots
½ lemon with peel
1-inch ginger root
Each of these vegetables have their unique medicinal properties that are beneficial for calming the digestive system.
For healing of peptic ulcers, use green cabbage over the red/purple one.
3. Detoxify Gut, Kill Harmful Bacteria, Boost Immune System
Wheatgrass is one of the best complete foods as it contains all the nutrients needed in one shot (3 ounces) that is very potent and concentrated.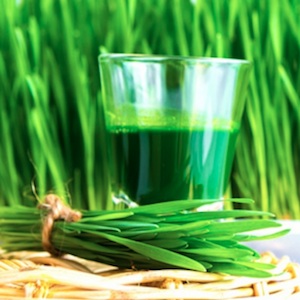 If you cannot consume wheatgrass juice alone, you may add it into your apple or carrot juice to make it more palatable.
3 large carrots (or two green apples)
2 ounces of wheatgrass juice
A squeeze of lemon juice to enhance nutrients and taste
Wheatgrass juice is excellent for binding with toxins in the digestive tract and escorting them out of the system, and at the same time, do cells repair and healing.
To build a healthy digestive system or strong immunity, consider drinking wheatgrass juice on a daily basis. You may grow your own wheatgrass, buy frozen packs (not bottled ones) or use pure wheatgrass powder.
4. Relieves Gas And Bloating, Ease Water Retention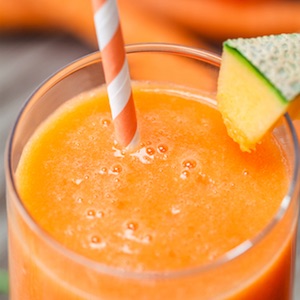 Feeling bloated or constipated? Watermelon and cantaloupe juice are rich in water content and are nutrient-dense. Juice and drink each fruit alone or together.
Do not be afraid to drink them in jumbo glasses especially in cases of constipation.
There may be a temporary uneasiness after drinking the juice, but it's working up the bulk for elimination and relief will come.
½ a cantaloupe
½ a watermelon
This juice is great to reduce water retention and bloating that comes with eating too much sodium or the ladies' monthly menstruation.
Some of the links I post on this site are affiliate links. If you go through them to make a purchase, I will earn a small commission (at no additional cost to you). However, note that I'm recommending these products because of their quality and that I have good experience using them, not because of the commission to be made.