A Spiralizer Is A COOL Kitchen Tool—Here's Why You Need One!
Last updated on
You may have seen this cool kitchen tool and never thought you needed it. I thought so too, until my beloved husband gave me a spiralizer last Christmas and I've never stopped using it since!
What Is A Spiralizer?
A spiralizer is a kitchen tool that makes "noodles" out of vegetables. Some models make ribbons and curls too, in addition to the "noodles". Ever heard of zucchini noodles? You can make them with this cool tool! And the best thing is, you know what? A spiralizer is very affordable and you can use it over and over again.
There are so many healthy dishes you can make using a spiralizer. Your food comes out colorful and beautiful. It might even encourage your kids to eat more vegetables! I know, because my grandchildren love them!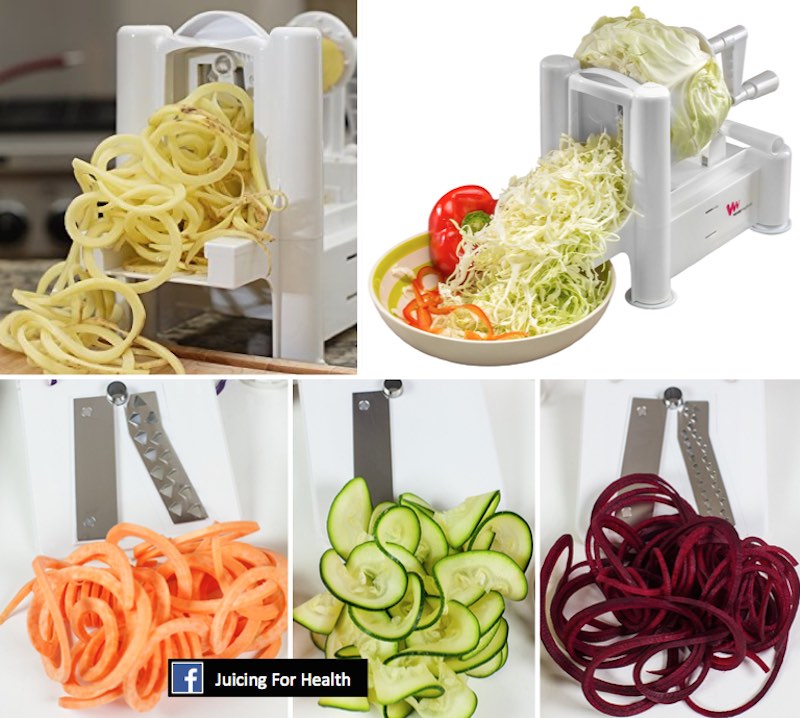 What Can A Spiralizer Spiralize?
Whether you're an amateur or professional chef, this awesome kitchen tool will soon become indispensable. My first few tries at them were not very pretty, but once I got the hang of it, I just love how the spiralizer works. And I must say, it makes life interesting too!
Some of the best vegetables that will go through the spiralizer nicely are:
You can try out other vegetables to see what works for you. Someone I know cuts off the broccoli florets and even spiralize the stalks, no kidding!
And when you're at it, you can come up with so many creations and variations. You are only limited by your imagination!
Some Of The Things You Can Do With A Spiralizer
This is my favorite part of using a spiralizer. There are so many things you could do! So I'm not going to explain them all, I think a picture paints a thousand words …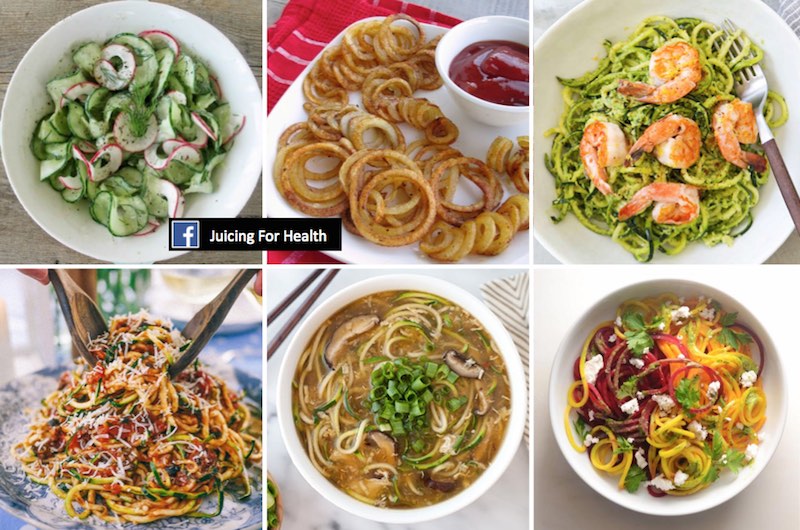 Which Spiralizer To Buy?
Since the spiralizer was invented a few years ago, many different models have been introduced to the market.
These few models are the best I have found at decent prices. There may be a few similar models under different brands and even cost a little less but they don't measure up.
Spiralizer Tri-Blade Vegetable Slicer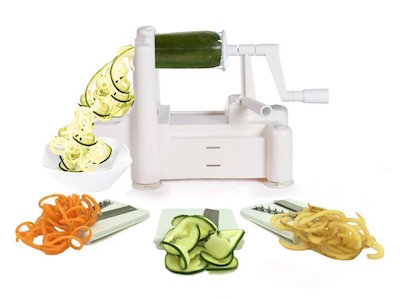 This must be the best brand/model—a best seller among all vegetable slicers. It costs a tad more than its closest competitor, the Paderno Tri-blade (below) for good reasons.
This model is "strong" and made for heavy duty use, with lifetime "hassle-free" warranty so it may be worthwhile to pay that little more for peace of mind.
What I like about this model:
High carbon stainless-steel blades
Self-contained blade storage
Made for strong and heavy-duty use
BPA-free
Dishwasher-safe—very important!
Lifetime warranty!
Comes with 3 spiralizer recipe ebooks
Paderno World Cuisine Tri-Blade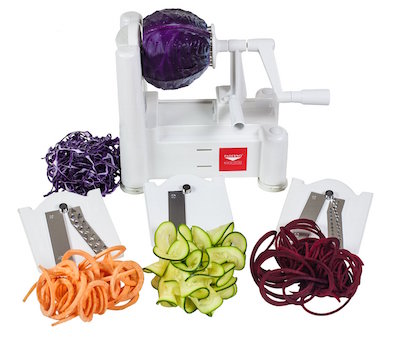 This is what I own and has a very simple and easy-to-use design. The built is made of durable food-grade plastic but is really solid.
Key features of this model:
3 sets of blades in different sizes
BPA-free
Very easy to use
Dishwasher-safe—very important!
One year warranty
Paderno World Cuisine Spiralizer Pro 4-Blade
Paderno World Cuisine just released its new model, the 4-Blade Pro model.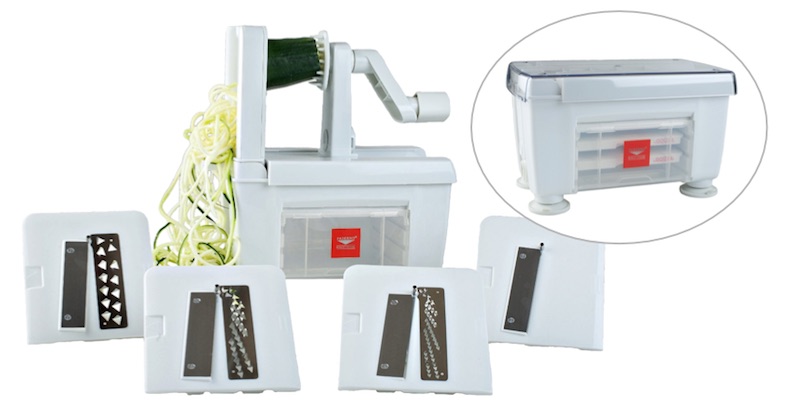 What's new compared to its Tri-blade sister model:
The Angel Hair blade—this is really nice for making finer threads of noodles to pair with sauces or just simply for making a salad!
Comes with a folding body for easier storage—definitely a plus for small kitchens like mine.
Costs a little more than the Paderno Tri-blade but you get what you pay for—makes sense if you're seriously into eating healthy!
Watch the video …
Kitchen Supreme Spiral Slicer Spiralizer (Handheld/Portable)
I have previously used a handheld spiralizer like this one. They are not the best of course, but definitely handy to take along when I travel.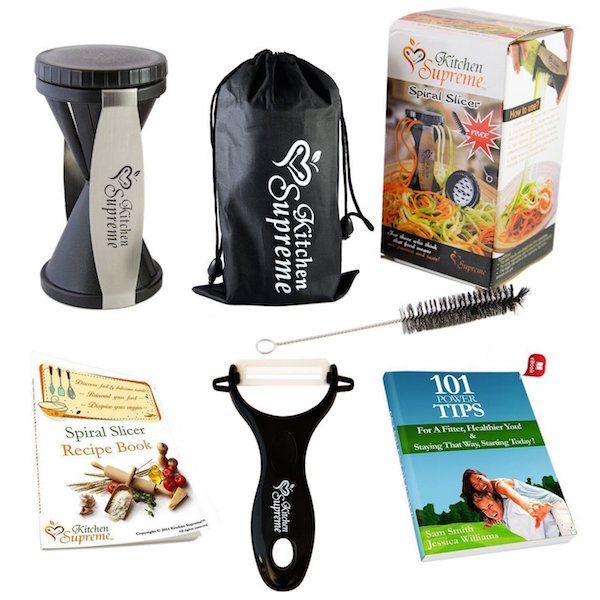 What I like about this slicer:
Easy to use (like using a conventional pencil sharpener)
BPA-free
Razor-sharp blades, guaranteed not to rust or lose sharpness
Built-in finger guard protection and safety cap
Dishwasher safe
Compact—easy storage, or just put in your handbag to go
Inexpensive
Comes with a physical spiral slicer recipes book
BUY SPIRALIZER COOKBOOKS:
Start Spiralizing!
Well … I hope you will find the perfect spiralizer. The perfect one is the one that you use. Once you made that zucchini noodles, I promise you, you will fall in love with it. For some reason, zucchini doesn't taste like zucchini once it goes through the spiralizer.
And, if you're going to eat healthy and spend time in the kitchen, you might as well have a little fun—and include the kids!
Let me know below, which one you ended up buying and how you like it!
Some of the links I post on this site are affiliate links. If you go through them to make a purchase, I will earn a small commission (at no additional cost to you). However, note that I'm recommending these products because of their quality and that I have good experience using them, not because of the commission to be made.