Normal bone metabolism is dependent on many factors — nutritional, lifestyle and hormonal factors.
Calcium is essential and helpful for the bone but it isn't the only answer. It is the optimal absorption of the nutrient that is important. Other essential nutrients for preventing osteoporosis include folate/folic acid, vitamin B6 and B12, vitamin C and K, manganese, boron, silicon and zinc.
This juice combo has most of the necessary bone-building ingredients. Broccoli is rich with calcium. Celery has got the right amount of sodium that is suitable for bone-building. Cucumber is alkalizing, preventing calcium to be leached from the bones, thus reducing the risk of osteoporosis.
Read more about preventing osteoporosis here.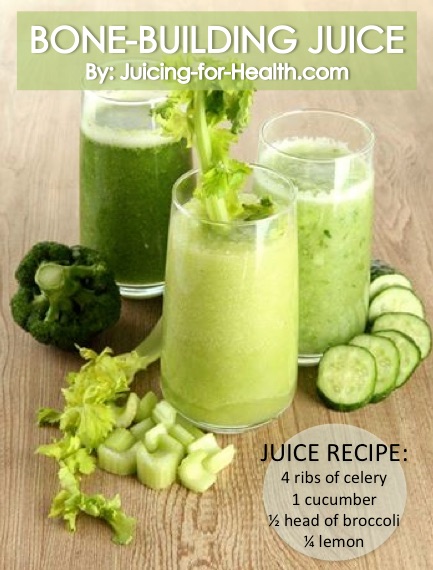 You may juice or blend this recipe.
Juice Recipe:
4 ribs of celery
1 cucumber
½ head of broccoli
¼ lemon