Due to faulty eating, our blood pH becomes acidic. Over the years, this takes a toll on our bone density that may lead to osteoporosis.
In an acidic blood environment, our bones get the message to release calcium and magnesium (alkaline) into the blood to balance the pH. This process is called "homeostasis". When calcium is constantly being leached from the bones in order to neutralize the blood pH level, bone density is compromised.
This juice combo has all the right alkaline minerals for rebuilding bone loss. Pears are used here for their boron content that is a great mineral for building bones and strong teeth.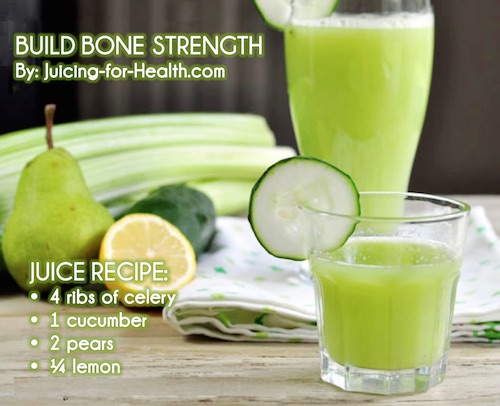 Juice Recipes:
4 ribs of celery
1 cucumber
2 pears
¼ lemon
**   **   **
This juice combo is an excellent source of vitamin C, calcium and phosphorous, all nicely packaged for maintaining the structural integrity of bones and teeth.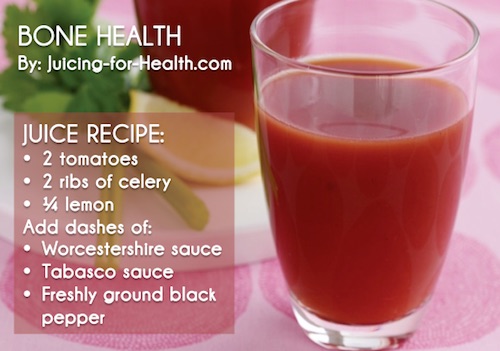 Juice Recipe:
2 tomatoes
2 ribs of celery
¼ lemon
Optional for taste, add dashes of …
Worcestershire sauce
Tabasco sauce
Freshly ground blackpepper
Read more about the causes of osteoporosis, how to prevent it and try some juice recipes to rebuild bone strength.