5 Healthy Banana Bites Snacks To Curb Your Sweet Cravings
Last updated on
Do you love the taste of banana? Do you love the taste of sweets? If you are looking for a way to curb your sweet cravings, then bananas could be a nice, healthy choice. They are nutritious, filling, and a great binding agent for no-bake recipes.
To help control your cravings for sweets, try out these 5 easy, healthy, banana bite recipes.
Healthy Banana Bites Snacks
1. No-Bake Banana Bread Bites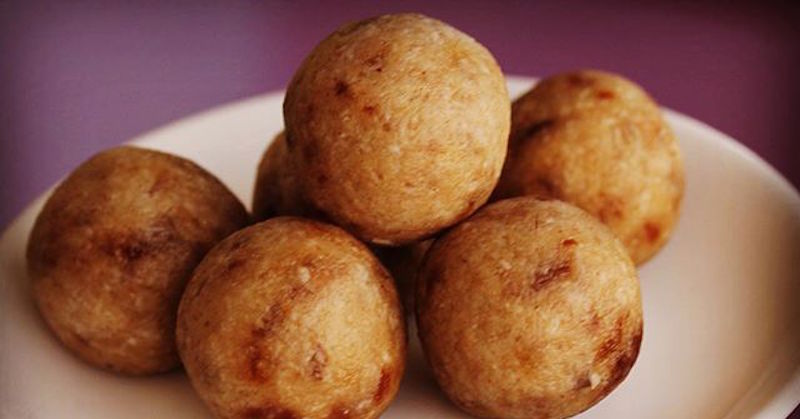 This recipe is paleo-friendly. These no-bake banana bread bites should only take about five minutes to prepare and about five minutes to eat. They are soft, moist, and taste almost just like traditional banana bread. In addition to being paleo-friendly, they are also gluten-free, dairy-free, and naturally vegan.
Ingredients:
1 cup of chickpea flour
½ a cup of vanilla protein powder (optional)
A pinch of sea salt or Himalayan salt
A pinch of cinnamon
¼ cup of overripe mashed banana
2 tablespoons of maple syrup
¼ cup of homemade nut butter
¼ cup of cashew or almond milk
Dairy-free chocolate chips (optional)
Directions:
In a large mixing bowl, combine the chickpea flour, cinnamon, salt, maple syrup, and protein powder—if included. Mix the ingredients and then add the mashed banana. The mixture should be crumbly. If you are using the dairy-free chocolate chips, add them at this point.
Place the nut butter and liquid sweetener in a bowl. Combine until they are melted. Pour this mixture into the other mixture. Mix until they are fully incorporated. Add one tablespoon of the cashew or almond milk, at a time until you have a thick batter.
Use your hands to form small bite-sized balls. Arrange the balls on a tray and then place in your fridge. Allow them to cool for at least 20 minutes before serving.
2. Chocolate Chip Banana Oatmeal Bites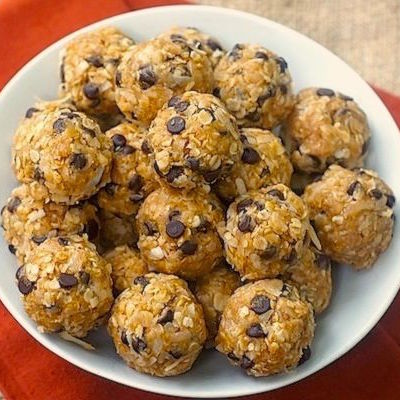 This next recipe is not raw-friendly, as it does require some baking, but it is still incredibly nutritious and vegan-friendly.
Ingredients:
2 ripe bananas (mashed)
1 cup of oats
½ teaspoon of cinnamon
1 handful of semi-sweet dark chocolate chips
Directions:
Preheat your oven to 350 degrees Fahrenheit.
In a medium bowl, mix the mashed bananas, oats, and cinnamon. Add the chocolate chips and mix again. If the mixture is too soft, add some more oats.
Grease a cookie sheet with coconut oil and then use a spoon to scoop the mixture onto the cookie sheet. You should be able to get between 12 and 16 banana bites.
Bake for 15 to 20 minutes.
Remove from the oven and allow to cool before serving.
3. Chocolate-Covered Banana Almond Butter Bites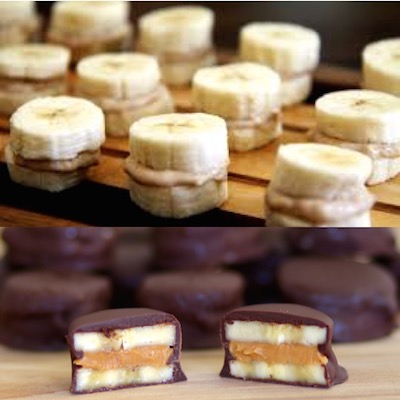 This recipe is decadent, delicious, and nutritious. You do not need a lot of ingredients for this recipe.
Ingredients:
2 ripe bananas
1/8 cup of almond butter
1/8 cup of unsweetened applesauce
1 cup of dark chocolate chips
Directions:
Peel the bananas and slice them into quarter-inch pieces. In a small bowl, mix the almond butter and applesauce. Smear this mixture onto the banana slices. Top each banana slice with another banana slice, so the mixture is sandwiched between slices of banana.
Line a cutting board with parchment paper, arrange the banana slices and freeze for 30 minutes.
While the banana slices are freezing, melt the chocolate chips. Remove the banana slices from the freezer and dip each banana sandwich in the melted chocolate.
Place each banana bite back on the parchment paper after dipping in chocolate. Once you have covered all of the banana bites, place them back in the freezer. They should be ready within about 15 minutes.
Dealing with food cravings is probably one of the leading causes of weight gain and one of the main reasons that people fail at dieting. If your cravings for sweets have gotten in the way of your weight loss goals one too many times, then fight the temptation by whipping up a batch of banana bites.
Sources:
https://thebigmansworld.com/2015/08/09/no-bake-banana-bread-bites/
https://www.simple-veganista.com/2013/09/chocolate-chip-banana-bread-bites.html
https://myrecipepicks.com/17923/TheVeganCorner/chewy-chocolate-banana-bites-recipe-by-the-vegan-corner/
Some of the links I post on this site are affiliate links. If you go through them to make a purchase, I will earn a small commission (at no additional cost to you). However, note that I'm recommending these products because of their quality and that I have good experience using them, not because of the commission to be made.