4 Powerful Juice Recipes To Help Lower High Blood Pressure Naturally
Last updated on
By now, most people are aware of the fact that high blood pressure has been linked to an increased risk of heart disease and other health complications. Stress, another common health concern, can increase your blood pressure. Reducing blood pressure and stress can help prevent heart attacks, strokes, and other heart problems.
Use the following 4 juice recipes to start lowering your blood pressure, while relieving stress and improving your overall health.
4 Powerful Juices To Lower High Blood Pressure
1. Beetroot-Carrot Booster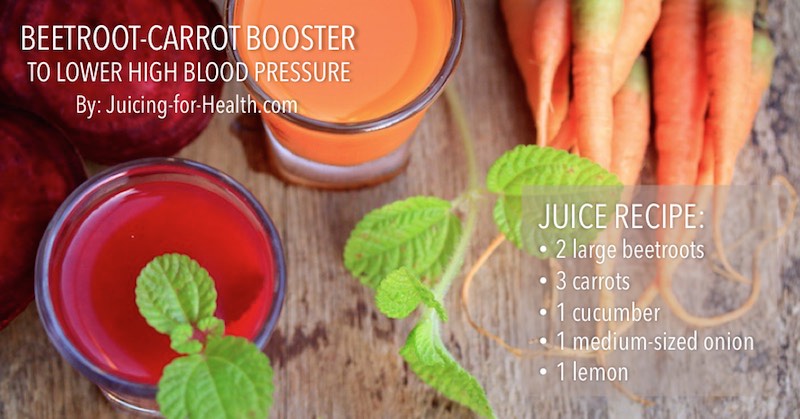 This juice recipe tastes great and is packed with nutrients that help lower your blood pressure. Beetroot is the first thing that comes to mind when we talk about lowering blood pressure. It does a great job at that.
Onion contains oligomeric proanthocyanidins (OPCs) that attack free radicals. OPCs are quickly absorbed and have been shown to help improve blood circulation and vein health. Caution, not many people can stomach onion juice, so use less or omit if you cannot tolerate it.
To make this Booster juice, put all the following ingredients through your juicer and serve.
2 large beetroots
3 carrots
1 cucumber
1 medium-sized onion
1 lemon
2. Go With Green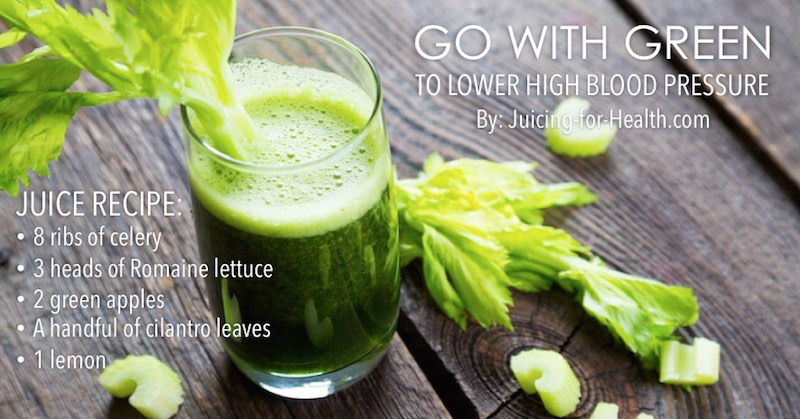 Green juices are oh-so good for lowering blood pressure. While they alkalize the blood, they are also cleansing and hydrating. This combination is also great for helping to calm the nerves, and reduce stress levels.
Put all these ingredients through your juicer:
8 ribs of celery
3 heads of Romaine lettuce
2 green apples
A handful of cilantro leaves
1 lemon
3. Flower Power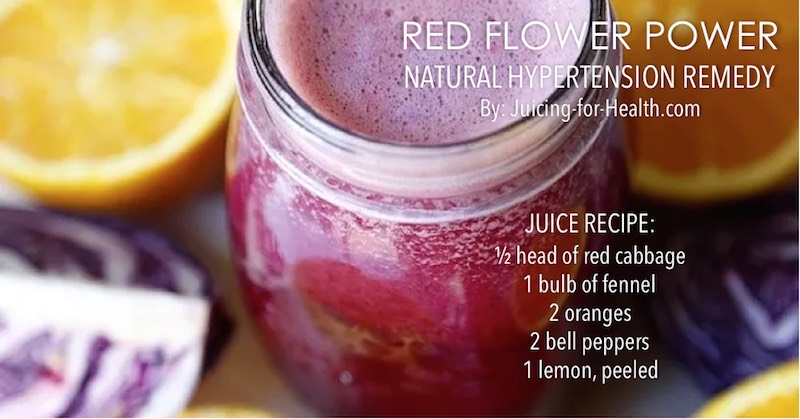 The Flower Power drink offers a large dose of anti-inflammatory properties. By reducing inflammatory, it also reduces the risks of hypertension going out of control. Always use organic produce whenever possible.
Put the following ingredients through your juicer and serve chilled.
½ head of red cabbage
1 bulb of fennel
2 oranges
2 bell peppers (red and/or yellow)
1 lemon, peeled
4. Turmeric Sunrise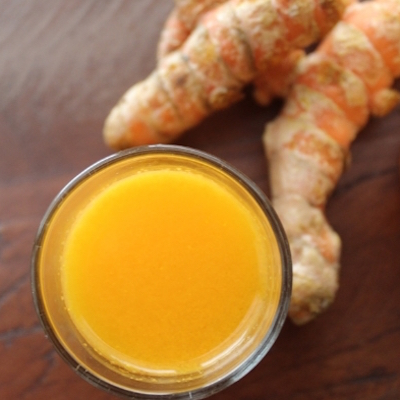 Turmeric and ginger roots have long been used as a remedy for treating high blood pressure.
Extracts from these roots are commonly used in pain relievers and other medications, including prescription medications for treating hypertension.
Along with turmeric and ginger, you will benefit from the inclusion of the other root vegetables that help enhance the juice nutrients and absorption:
1 inch of fresh ginger root
1 inch of fresh turmeric root
4 large carrots
1 medium-sized jicama
1 lemon, peeled
Drinking juices is a good way to start improving your health, but there is more that you can do to lower blood pressure and relieve stress. Along with ensuring you receive enough vitamins and minerals, you should try to include regular exercise in your daily routine. This will get your blood moving and can go a long way towards lowering stress.
If high blood pressure or stress are major factors in your life, then start taking steps to improve your health, beginning with the daily consumption of freshly juiced drinks.
Some of the links I post on this site are affiliate links. If you go through them to make a purchase, I will earn a small commission (at no additional cost to you). However, note that I'm recommending these products because of their quality and that I have good experience using them, not because of the commission to be made.