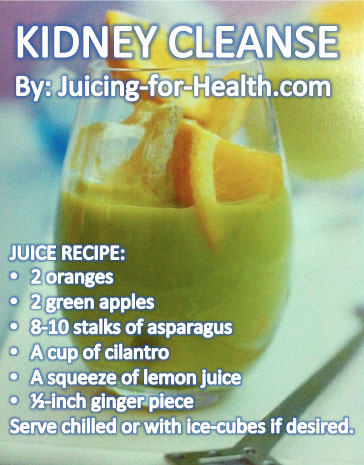 ---
---
Limit your alcohol and soft drinks consumption. These drinks can compromise kidneys functions, and impair their ability to regulate the volume and composition of fluid and electrolytes in the body.
Daily alcohol and soft drinks consumption may lead to low blood concentrations of key electrolytes as well as potentially tip the body's alkalinity balance.
Other habits that may damage your kidneys:
---
---
Not emptying your bladder when there is a need

Not drinking enough water
Eating a high-protein diet
Eating too much processed/refined foods
Prolonged use of medication
Not resting sufficiently
Protect your kidneys and bladder with citrus fruits, asparagus and cilantro, which are all helpful for preventing kidney diseases and stone formation. Though, this is not a licence for drinking alcohol/soft drinks!
Juice Recipe:
2 oranges
2 green apples
8-10 stalks of asparagus
A cup of cilantro
A squeeze of lemon juice
½-inch ginger piece
Serve chilled or with ice-cubes if desired.
Health benefits of this combo:
Blood alkalizing
Helps prevent or dissolve kidney stones
Helps relieve premenstrual bloating or swelling
High content of anti-inflammatory, anti-oxidant and anti-cancer properties.
Supplies electrolytes and restores hydration to cells
Read more about the health benefits of asparagus.
.

.