Understand how a centrifugal juicer works, the pros and cons, and compare some popular models.
How a Centrifugal Juicer Works
A centrifugal juicer chops up the fruit or vegetable with a flat cutting blade (much like a blender). It simultaneously spins the produce at a very high speed (of about 3,000 to 16,000 RPMs) to separate the juice from the pulp.
The juice is extracted by the sheer power of centrifugal force, very much like how a washing machine spins to relieve wet clothes of excess water.
The juice passes through the tiny holes in a strainer basket and are collected in a container at the bottom. The pulp remains behind in the strainer basket to be removed afterward.
Some models have a "pulp ejector" feature, which is an additional delivery area that automatically ejects the pulp when it is full.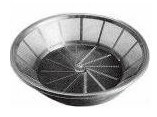 The advantage of this feature is that you save time by not having to stop and remove the accumulated pulp. This feature is useful if you juice in large volumes. (Tip: Line the pulp tray with a plastic bag to save time on cleaning it.)
For models without the pulp ejector, you need to empty the strainer basket often (maybe every 2 glasses) as the pulp collected in the basket may lower the efficiency of your juicing, not to mention the taste of your juice.
Advantages of a Centrifugal Juicer
It's most commonly available at most departmental or electrical store.
It's a less expensive juicer option, may be good for a beginner, or if you just want to "juice for fun".
Some models have large/wide feeding chute that allows for feeding of whole-fruit juicing that helps save time on preparation.
Reasonably easy to use, just assemble and juice!
Juice output is fast because it's using high-speed spinning.
Disadvantages of a Centrifugal Juicer
A centrifugal juicer can be noisy as the motor spins at a very high-speed.
The high-speed spinning causes exchange of +ve and -ve ions that results in oxidation which destroys enzymes.
The high-speed blade chopping does not penetrate the produce deeply enough to extract precious nutrients of the juices.
The juices produced has plenty foam because the high-speed spinning traps more air to cause the froth.
Not effective for juicing leafy vegetables, wheatgrass and herbs.
The pulp ejected is still wet resulting in low juice yield when compared to the masticating or triturating juicers.
Extracted juice is mainly water content and separates easily.
Extracted juice has to be consumed right away and cannot be stored for any length of time due to rapid oxidation.
Usually comes with only one or two-year warranty.
It may look as if centrifugal juicers have more disadvantages than advantages and it's rightly so.  I used to own a centrifugal juicer myself as that was all I could afford at the time.  I can understand what it is like to not be able to spend more on a better/luxury juicer.  When I was introduced to a masticating juicer and tasted of the juice, I told myself that I had to have that gear juicer!  I changed my mindset.  Suddenly a masticating juicer is no longer just a "luxury" item … it is my tool to improving my health and it was supposed to SAVE me on medical bills.  I began to save for a masticating juicer and finally got myself one.
A centrifugal juicer is very inexpensive and easily available.  If you're a beginner and really cannot afford to spend more than $100 on a juicer, then go for it. But this type of juicer shouldn't be your long-term kitchen companion.  Read about juicer safety.  If you're serious about juicing and want to juice daily, then DO still aim to save up to upgrade to a gear juicer.
---
---
On the other hand, if you can afford a little more than $200 right away for your first juicer, you may want to look at the possibility of getting a masticating juicer.  I promise that you will not regret the purchase, it will give you a fulfilling juicing experience.  What you pay upfront will save you hundreds more in the long run.  I keep hearing back how people are saving up to 25% on the money they spend on produce each time.  They need less fruits/veggies for MORE juice. It's all savings.
Before you decide to buy a juicer, see the differences between a centrifugal and a masticating juicer.
Read how a gear/masticating juicer can help minimize agricultural chemicals and pesticides contamination in your juice.
Review of Selected Popular Models
I choose to write about these few models as I found that these are the most often requested brands/models. They are not necessarily models which Juicing-for-health.com recommends. The reviews here are for information only.
If you can afford it, I still suggest you invest in a single-gear or a masticating juicer, which is a much healthier and safer option.
Breville BJE200XL 700-Watt Compact Juice Fountain
Breville BJE510XL Ikon 900-Watt Variable Speed Juice Extractor
Breville JE900 Juice Fountain Professional
Types Of Juicers:
.