Sprouts are a commonly grown food, but people often overlook them or ignore them. This is unfortunate, as sprouts are one of the most nutritious items that you could be including in your diet. Find out how you can use vegetable sprouts to fight cancer, Alzheimer's disease, and heart disease.
What is a Sprout?
A sprout is essentially the shoots of any plant. The shoot that grows after germination is the sprout. This can include tomato sprouts, pea shoots, mung bean sprouts, among other sprouts.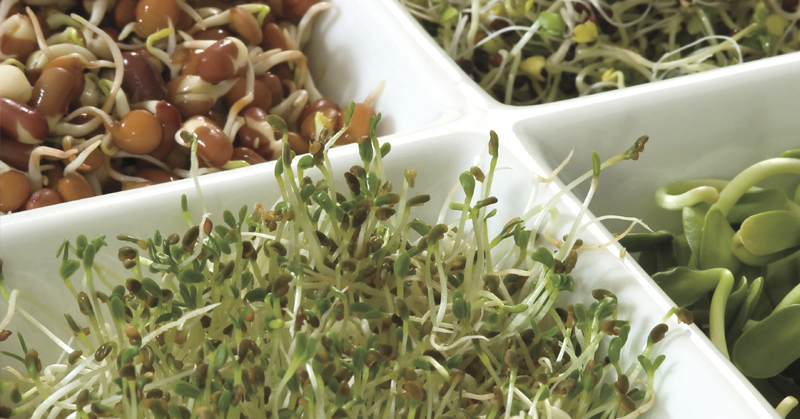 The Health Benefits of Sprouts
Many sprouts contain up to 100 times more enzymes than uncooked produce. Enzymes are a type of protein that is needed for almost all functions within your body. These enzymes are an integral part of a healthy body.
Higher fiber content:  During sprouting, beans, nuts, and seeds contain a higher fiber content, which help improve gut health. Fiber binds to toxins, so that they are quickly flushed from your body as part of the digestive process.
Higher nutrients content:  The vitamin content of sprouts is also significant. When certain seeds, grains, and beans sprout, the vitamin content can increase more than 20 times. These additional vitamins are beneficial for your overall health.
Higher essential fatty acids content:  The amount of essential fatty acids also increase during the sprouting process. Getting essential fatty acids can improve heart health and your cardiovascular system, reducing your risk of heart disease.
Higher antioxidants content:  Another benefit of eating more sprouts is the amount of amino acids and antioxidants that you will receive. The combination of additional amino acids and antioxidants should go a long way towards fighting cancer and improving your brain function.
Improves cognitive ability:  By improving your cognitive ability, you can delay the onset of Alzheimer's disease or slow the progression of the disease. The antioxidants help neutralize the damages done by free radicals, which are known to cause various types of cancer.
Improves heart health:  Sprouts are also more affordable. With how inexpensive sprouts are, there is no reason to avoid getting more sprouts in your diet. By eating more sprouts, you can help improve your heart health and prevent Alzheimer's disease and cancer.
What Sprouts Should You Eat?
If you are interested in eating more vegetable sprouts, but do not know where to begin, start with pea shoots.
Pea shoots are one of the most nutritious leaves that you could be eating. They are rich with almost the whole range of vitamins and minerals, and are considered whole foods.
Pea shoots are low in fat, only containing 9 calories in a 50-gram bag. Add pea shoots to your juices, salads, soups, or even your sandwiches, to get its full range of nutrients.
Now that you know that you should be eating more vegetable sprouts, it is time to add them to your daily diet. Help improve your cardiovascular health and prevent cancer or Alzheimer's disease, by adding vegetable sprouts to your regular diet. They are inexpensive and can be included in a wide variety of different meals and recipes.
Learn: How to sprout your own wheatgrass.
Sources:
http://www.peashoots.com/peashoots-nutrition.htm
http://www.care2.com/greenliving/10-reasons-to-eat-sprouts.html