by Valerie McKee (USA)
I'm writing this because I've had tons of questions on juicing/fasting etc. I recently completed a 40-day water/juice fast.
It began as a spiritual and health fast which led to weight loss, mental clarity, spiritual awareness, and a greater appreciation of things that mattered most to me: God, family and friends.
During that time, people began to notice "my transformation" and the questions ensued.
I decided to write a little about juicing and one day I'll detail more about my fasting experience and my journey to become a rawfoodist. But for now I'll talk about juicing and how it benefits me.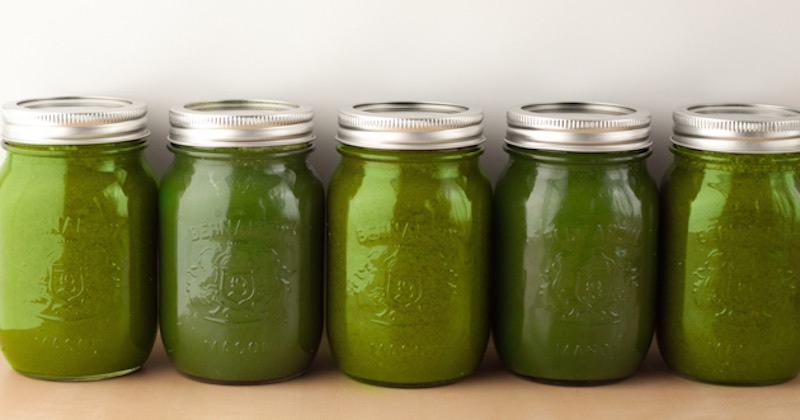 Juicing Is Awesome!
Juicing is an awesome, perfect way to lose weight. You may feel like all you've had to drink is a tall glass of water or simple smoothie but you suddenly feel satisfied, focused and have a tremendous burst of energy!
Usually every morning I start my day with a tall glass of fresh green juice, usually made with kale, spinach, cucumber, celery, strawberries, orange, apple, cantaloupe, (or some variation of those ingredients, but for sure I use green something!). For days that I don't feel like juicing nor have the time, I will go to Roxberry for my fix.
For lunch it's more of the same and then dinner is a healthy, vegan meal like raw veggies, or salad!
Throughout the day I munch on seeds, nuts or berries. I also started taking wheatgrass shots along with Spirulina. At times I will only juice vegetables. They are natural diuretics, and may act as a laxative as well.
But that's why juice is the perfect breakfast, it cleans out your system from the previous day and helps your digestive system starts afresh! It also flushes out your cells and gets rid of toxins that have built up!
I Love Juicing! What It Did For Me
So by now you can tell how much I love juicing. It's delicious and you can make it from all of your favorite fruits and veggies! I experiment all the time. However, there are books and even an app on my iPhone with recipes. If you're just starting out, do either, and before long you will find a flavor that you'll love!
Oh, please don't worry about the calories/sugars in fresh fruits and veggies, they're actually considered negative calorie foods! ( It's when you start drinking those bottled juices that can get you into trouble). As far as fresh fruits and veggies are concerned, all the nutrients are absorbed to help your body burn fat. Juice keeps you hydrated and works with your body to keep you naturally slim and healthy!
Here are just some of the great benefits that I received from juicing:
Juicing stopped my cravings
Weight loss
Gave me energy
Revved up my metabolism
Made my skin clearer
Strengthened my immunity
I sleep better
Mental clarity
What It Didn't Do
It didn't make me feel bloated, it didn't add weight, and it didn't make me feel guilty about snacking. I snack on whole fruits, veggies, nuts, berries, trail mix, etc. Contrary to popular belief, I ate and I ate whenever I want!
I'm far from perfect and fall off the wagon from time to time but I will say that I haven't had meat since Sept 2011 and I fasted and juiced through the two biggest holidays of the year.
Currently, I eat a more vegan lifestyle with goals of going raw totally. It's a challenge to go 100% raw and often find myself resorting back to veganism; however, I've made great strides. When I compare my diet to my dietary intake this time last year. Well, can I say Grad school wrecks havoc on your dietary intake, lol! I'm so much healthier.
I also wish I could still do high intensity bootcamp but my left knee has a possible tear … So my goal is weight-training and lifting (to look like a fitness model, not incredible hulk, lol). I'm going to be a buff mom! Just watch and stay tuned!
Now, back to my eating … This is not for the light hearted; I get teased, ridiculed, etc. for healthy eating. But I will not let it deter me. I know I am doing the best thing for my body. My body is getting the nutrients it needs. That's an entire different story—try looking up the protein/fiber content of various vegetables, you'll be pleasantly surprised!
I have chosen not to argue why I eat the way I do but to become a walking testimony of why it's the healthiest way for me.
** Please note: I am not trying to persuade anyone into fasting, juicing, etc. I know what it has done for me and how I've reaped from the health benefits. In no way am I taking the place of physician guided advice. But it certainly won't hurt anyone to increase their fruit and vegetable intake … whatever the shape or form.
Happy juicing!