By Sofie (United States of America)
Hi Sara!!
I am so impressed with your website! You asked if I have a story to share. Here we go…
My primary doctor has been concerned about my high cholesterol for about 5 years now since I've been to his clinic. Then, in my last visit about a week ago, he asked, "What did you do?"  I was so intrigued with that question that I became defensive. Then, he said, "Your blood work result showed that your cholesterol has gone down immensely." That was the basis of his initial query.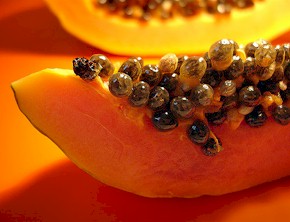 I told him about my diet:  My daily smoothie intake which I basically mix with ripe papaya fruit since my papaya tree has grown beautifully and bearing fruit all year round.
When I got home, I googled papaya health benefits and found your website. I learned so much more about it. Now, I am an avid preacher to all my family and friends, and encourage them to eat papaya fruit or even using other parts of the tree itself.
I am feeling good, feel my skin tightened, and my health improved. Many people are so conscious about it, and don't try to include something so healthy in their diet … I am so lucky, indeed !
Eat papaya daily!!
Read more about the health benefits of papaya and how papaya leaves can elevate blood platelet level.