Take a peek into my kitchen and see my juicers.
Matstone 6-in-1
I'll let you take a peek into my kitchen and see the juicers I own. Green has become my favorite color because of this juicer. I imported this beauty from Korea more than eight years ago as I couldn't find a local distributor for single-gear juicers.
I tore out the sticker logo and drew up some picture of fruits using my glass painting paint and stuck them on the body of the juicer as you see above.
My Matstone was one of my most expensive kitchen equipment I own at that time. I'm not a good cook but I'm passionate about juicing and I juice everyday (well, at least I try to).
Once I've tasted the juices extracted from this juicer, I never want to drink juices extracted from my centrifugal juicer ever again, so I packed my Philip and put it away for good.
After using this green beauty for about four years, I was introduced to its sister, an upgraded model, the Alpha Juicer.
Equivalent models, the GB9000 series.
Alpha Juicer DA-900 (Single Gear)
I got serious about juicing and started this informative website on juicing. I bought this juicer so that I can test it out and write a review about it. Then my site visitors got interested and wanted to know where they could buy one. That's how I got to selling these online.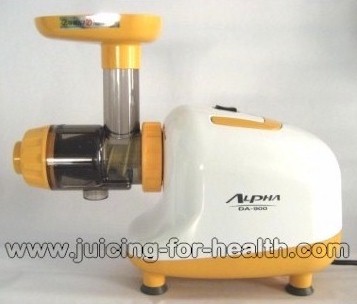 You can read more about the Alpha Juicer here, or the USA  equivalent models: Omega J8003 / J8005.
Green Power Kempo KPE-1304 (Twin-Gear Juicer)
Later, I got really serious and bought the Green Power Kempo too. Whatever do I want to do with three juicers? I really don't know but I used the twin-gear for a while, study it and found that it is one of the best juicers for the nutrient-enhanced juices it produces.
Read more about the Green Power Kempo.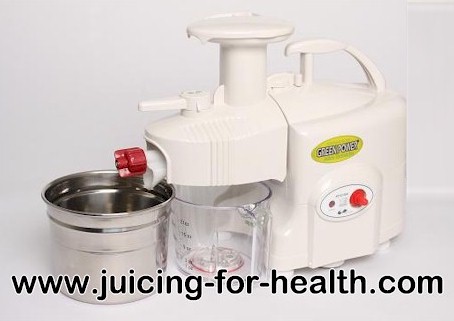 .
JuicePresso CJP-01
(Vertical Juicer by Coway)
I acquired a JuicePresso for review and have been using it a lot as I yet again fell in love with this latest technology. I especially like to use it when I'm doing a juice-feasting for its almost effortless-handling and ease of use. Assembly, operation and wash-up are simply a breeze, love it!
Read my comprehensive JuicePresso review here.
(Unfortunately, the JuicePresso CJP-01 has been phased out in Malaysia)
Kuvings Whole Slow Juicer
The latest addition to my juicers family was the Kuvings Whole Slow Juicer, also fondly called by other names in Malaysia, like "Hungry Henry" and "Chompy Charlie". Very handy to use when I do a juice feast, saves much preparation work and time!
.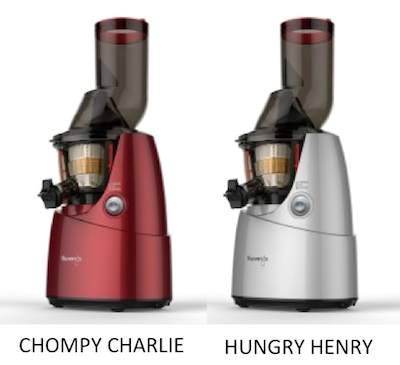 Read more about the Kuvings Wide Mouth Slow Juicer review here.
.
Omega J8003 Single-Gear Juicer
All the five juicers mentioned above are in my home in Malaysia.  As I travel quite a bit to Canada, I bought an Omega J8003 which is equivalent to the Alpha Juicer above. Due to the voltage difference, I cannot take any of my five juicers with me to Canada.  The J8003 is made for the Northern American market and has a lower voltage suitable for this region.
.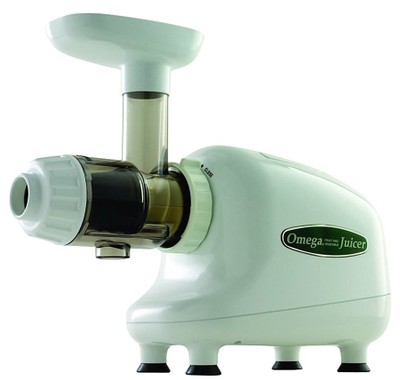 So there, you've come into my kitchen and seen all the gear juicers I own. I like each one of them for their different features and qualities. Now, tell me the story of YOUR juicer.
.