Who wouldn't want to cuddle up to their fur baby in bed at night and then get woken up by the sweetest kisses on the face via a furry alarm clock? A lot of people, actually.
Not everyone is into sleeping with their cats/dogs during bedtime; most people actually have mixed feelings about letting pets join them in bed, and rightly so.
On one hand, there's nothing quite as comfy as sharing the bed with your dog/cat, but on the other hand, doing so can result in sleep disturbances, bedroom inconveniences, and even outright health hazards.
Sleeping With Your Pet Could Either Cure Your Insomnia Or Make It Worse
Studies: Should You Let Your Dog Sleep With You?
In a 150-person study by the Mayo Clinic Center for Sleep Medicine in Arizona, 41% of respondents said that having a pet in the bedroom helped them sleep better while a significantly smaller 20% said that it disturbed their sleep.
Meanwhile, in a different study also led by the Mayo Clinic, researchers found that more than 50% of their sleep clinic's patients were there because of sleep disturbances due to having pets on the bed, or in the bedroom. Dig deeper and you'll find more studies and surveys contradicting each other on the topic of co-sleeping with pets.
While we often rely on statistics to arrive at scientific truths, this case seems to be more of a matter of personal preference. Ultimately, it's up to you and your pet's relationship whether or not co-sleeping will be good for your sleep patterns or not.
While cats are known for doing whatever they want to in bed, including walking all over your face in the middle of the night, there are some cats who actually cuddle peacefully at night. And nothing's quite as soothing as a cuddly, purring cat who knows that you need some quiet, uninterrupted sleep.
Consider The Pros And Cons
As sleep medicine expert W. Christopher Winter says,
"I don't have a problem sleeping with your dog until you complain that sleeping with your dog is problematic."
The reality is that, while some pets can be better than ambience at putting you in the mood for sleep, there are also some pets that simply don't give a damn if you don't get any sleep all night!
If for you, the pros of co-sleeping with your pet outweigh the cons, then go ahead and do it. But the moment it becomes a problem, don't let your furry baby's pleading puppy eyes fool you; that's when you might need to reconsider your co-sleeping arrangement.
Never Co-Sleep With A Dirty/Unhealthy Fur Baby
Never co-sleep with your pet if you're in a condition where you're vulnerable to catching diseases. In a comprehensive article called "Zoonoses in the Bedroom", the Center for Disease Control discusses the many diseases that animals may spread to you when co-sleeping.
In one case, a man contracts meningitis for letting his pet lick his hip replacement surgery wound while they were in bed. There's also mention of a young boy contracting the plague after sleeping with a flea-infested cat. If you think about it, both cases of disease transfer from pet to human could've been very easily avoided if both pets and humans were completely clean and healthy.
As various veterinarians and health experts explain, there's always a risk of developing some sort of disease when you're co-sleeping with any pet. Pets are often on the ground, they don't bathe as often as us, and they might always be carrying diseases that affects only humans (so it's impossible to spot on the pets themselves).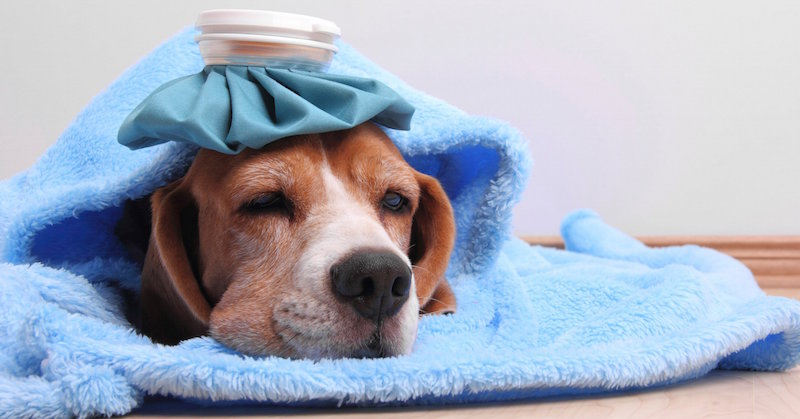 Given all these risks of disease, it's certainly debatable as to whether or not co-sleeping with your pet is worth the potential trouble.
What's not debatable is that you can lessen the risk significantly by simply ensuring that your pet is both clean and healthy when you do sleep with them in bed.
Some homeowners even go so far as to isolate new pets in one room of the house until they can be deemed 100% healthy; this may seem like a lot of work, but it's better than getting some strange new diseases.
Additionally, remember that if you yourself are currently suffering from a compromised immune system, it would be a good idea to get healthy first before you share the bed with a possible disease-carrier.
When Regularly Sleeping With Your Pet, Clean The Bedroom More Frequently
No matter how clean they seem to be, as long as you welcome them on your bed, your pets are bound to tread some dirt onto your mattress at some point. And even if it is true that your pets are excessively clean, they're bound to shed some hair somewhere.
No matter how much you bathe or clean them, pets will be pets, which means you're going to have to clean the bedroom and replace the sheets more frequently than usual.
Stock up on some baking soda because it's the best all-natural deodorizer you can use with your vacuum. Depending on how hairy your pet is, the current season, and how much your pet sheds, you might need to replace your bed sheets once or twice a week.
The cleaner you keep your bedroom, the less likely it is that you'll contract any diseases from your furry baby!
---

Author: When Peter Mutuc isn't sculpting, writing, editing, drawing, skating, cycling, wrestling with his Labrador, or actively regulating his sleeping patterns through at least 150 minutes of weekly exercise, he's usually just online, creating and developing web content for One Bed Mattress.