Why I Joined The Institute for Integrative Nutrition (IIN)
Last updated on
A Little Background
I have been interested in the topics of nutrition and natural healing for some time now. You have read my story here.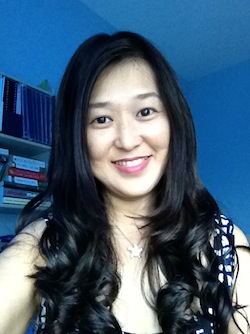 My desire for learning doesn't stop for I know that there is so much more to learn. Through this website, I have helped thousands of people to change their eating habits and lifestyle. Hundreds have written back expressing their gratitude on how their health had been transformed by applying some of the information that I share on this site.
Unfortunately, there are also many others that I couldn't help.  There are many who just don't know where to start, nor do they want to learn/read on their own. They find the need to change, scary, a step into the "unknown", and even overwhelming sometimes. This is the  group of people I wish to reach as I know if only they're given the right guidance, they too can improve their health in tremendous ways.
Life-Changing !!
I've heard of the Institute for Integrative Nutrition (IIN) for a while now and have been contemplating whether to join.
I completed my course in Nutritional Consulting earlier in 2012 and was hungry for more knowledge. I was eager to take up another course that would lend more credibility to what I am currently doing.
Just as I was actively researching this school, I bumped into a customer/friend who was about to graduate from IIN in a few months.  She is a medical doctor who turned to natural healing when she realized that she didn't have the heart to continue prescribing medicines that are not only NOT helping her patients, but even harmful in some cases.
This customer/friend encouraged me to take up the Health Coach Training Program from IIN and assured me that it was life-changing! I've read everywhere in my research of the school and in every review I read, I observed former students used the same words:  "Life Changing" !!!
Well, "life-changing" appealed to me right then, and right now! Who wants mediocre? I needed something outstanding. I needed something to take me to the NEXT level. I needed something that would change my life. I needed "life-changing"! I immediately signed up for the program, without hesitation.
Read more about the Institute for Integrative Nutrition.
I Have Classmates !!
At the previous long-distance nutritional course I took, I did everything on my own (study, revision, reports, exams).  It felt a little kind of "lonely". No one to discuss my course syllabus with, no one to share my joys with. However, with this Health Coach Training Program, the first thing we were required to do was to join a Facebook Group.
Even way before the Program started, I have enjoyed the Facebook Group page so much. There are about 1,000 other students in the group, all coming from different backgrounds and different countries. But, they all had one thing in common: They all love to talk about Nutrition and want to be able to help others live a healthier and happier life.
It was so much fun to interact in the Facebook Group page as every one of my classmate's passion for life could be felt.  The energy in the group is so positive and alive!  I believe in mixing with positive people to stay positive.  People who care about nutrition, care about people.  I know I've made one of the best decisions in my life by joining this Health Coach Training Program.
Course Format
One of the other things I like about this Program is that the course materials are presented in a very easy-to-understand and entertaining way.
Lectures are delivered by world-renowned Nutrition Experts in the form of audio or video, as if we were in a lecture hall. Anyone who has even the slightest interest in nutrition would greatly appreciate how easy these "classes" are, yet, solid in substance.
The program duration is one year.  Training materials are released weekly in "bite-sizes" so that students don't get overwhelmed with too much all at once. Online tests are done every quarter.
There is also something called the "Coaching Circles" where we are assigned a graduate coach who would coach us step-by-step to be successful coaches like them.  This is just too awesome for me!
I love the idea of having a "live" person with whom we can interact and ask questions. These Coaching Circles are conducted monthly where we "meet" through conference calls from anywhere in the world.  It's just too exciting!
Read more about the Institute for Integrative Nutrition.
Join Me!!
I highly recommend this course if you already have some background or interest in Nutrition.  This course is a certification, not a Diploma or Degree, but many students can begin their coaching career halfway through the Program. It is the perfect platform to direct you on the right path towards not only healthy living for yourself and your family, but also to help OTHERS to live healthy … and get paid for it!
If you're currently holding a full-time job and thinking of changing your career, this is the quickest way where you can take a course in Nutrition, and start coaching half-way through your course. You can study after your working hours, and begin coaching paying clients while you're still holding your full-time job. Build your practice part-time, and then expand it when you decide you're ready to go full-time!
One of the things I find lacking in most Nutrition courses is this … well, you learn everything about Nutrition and you have all the head knowledge. But, where does it lead you? What do you do with the knowledge? The Institute for Integrative Nutrition is different in that it teaches you how to coach and take a client through say, a 6-month program.  It gives you all the fast track tools you require to launch your own coaching practice: a website, how to have an online presence, continuous supportive network, and even where and how to look for potential clients!!
Free eBooks
If you're interested to learn more about the program, download the following FREE Nutrition Book Excerpt. With it, you will also receive a FREE 3-week study guide.
When filling out your email address, there is a little column where it asks "Who sent you this book?", remember to enter my name, SARA DING, so that if/when you should decide later to sign-up for the Health Coach Training Program, you will get a discount when they know that you were referred by one of their students. Or, if you're not ready now, get in touch with me using the form below so that I can notify you when they have special promotions throughout the year.
Read more about the Institute for Integrative Nutrition.

Free Downloadable eBook:
When you sign-up here, I will be happy to be YOUR peer coach to help you through the Program, to guide you, encourage and cheer you on! If you have more questions, send me a message through the contact form at the bottom of this page. I will be happy to answer your questions in any way I can or direct you to more detailed information.
Being an Ambassador of Integrative Nutrition, I have access to an exclusive scholarship that I may offer to my family and friends. You, as a visitor to my website, may take advantage of this huge discount by contacting me! Enter your email below to download the Health Coach Training Program Guide, and for more details on how you can take advantage of this scholarship offer.

MORE … ARE YOU IIN?
Click on the image below to watch a short videoclip, and learn more about the Program.
Read more about the Institute for Integrative Nutrition.

Some of the links I post on this site are affiliate links. If you go through them to make a purchase, I will earn a small commission (at no additional cost to you). However, note that I'm recommending these products because of their quality and that I have good experience using them, not because of the commission to be made.