Introducing, the Fast and Easy way to start a
Healthy Juicing Lifestyle
with Juicing Expert, Sara Ding's

  .
Healthy Pretty Happy Juicing
eBooks Bundle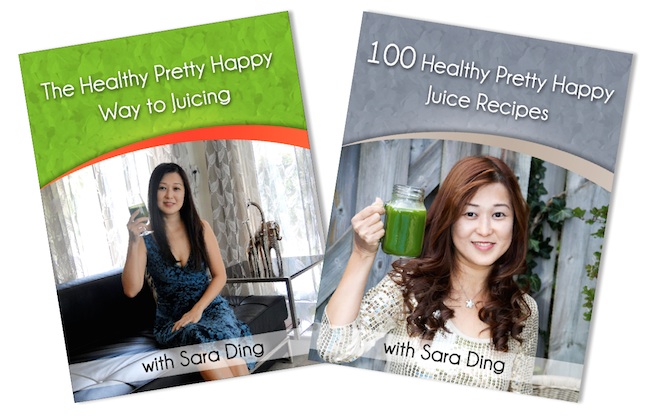 Buy Both for Just $6.95
The Healthy Pretty Happy Way to Juicing
Book 1: Sara quickly guides you, step-by-step, to understanding why, even the foods you think are healthy are actually making you sick. Then she shows you the fastest, and easiest way to start juicing for health and healing.
Just $3.95
100 Healthy Pretty Happy Juice Recipes (2nd Edition)
Book 2: Sara has collected 100 of her most delicious and nutritionally beneficial fruit and vegetable juice recipes in desktop, laptop and tablet friendly format. Just pop your tablet in your bag and take Sara shopping with you.
Just $4.95
 

PRICE: US$3.95

 

PRICE: US$4.95

 

A crash course on the basics of nutrition
Easy to read, no-nonsense, yet complete guide to a healthy lifestyle
Written in easy-to-understand layman's terms
You'll learn… * Basic nutrition * Why you get sick * Why juicing is the fastest way to improve your health * The basics of juicing * What to look for when shopping for a juicer * To juice or to blend – which is for you? * Types of juicers and which is best for you * Juicer recommendation for a beginner * Tips on how to combine juices * Tips on storing your juices
Perfect step-by-step guide for anyone new to juicing

100 Healthy Pretty Happy Juice Recipes with Sara Ding (124 pages) is a collection of tried and true juice recipes chosen by Sara as most effective and most delicious. This book …

Includes fruit and vegetable juice recipes
Contains purely juice recipes for many health conditions
Is NOT a smoothie recipes book
Gives you the right measurements that make your juices taste good
Plenty of green (diabetic friendly) recipes
Includes detox or juice fast/feast recipes
Recipes used by cancer patients
Learn the differences between juicing and blending
Tips on how to combine juices
Tips on storing your juices
Lots of juicing tips that make juicing a pleasure
Many healthy tips that boost healing
Will make you want to juice EVERY DAY!
And much more …
"Both these books had tons of info and were quick reads. I'm a busy mom so that was HUGE.
I keep the recipe book on my cell phone and use it while shopping.
My kids even like these juices! BONUS! 🙂 We're off to a healthier new year."

~ Alicia Rivera Internet Mom-preneur ~
"The Healthy Pretty Happy Way to Juicing" confirmed some of my suspicions about diet.
When Sara began with the basics, with the importance of water and exercise,
I knew she was on the right track. This is no sales pitch, but a thoughtful, step by step guide to good health.
When I got to the recipes, I immediately jumped to the section on hyperthyroidism.
Sara not only provided a great 3-ingredient juice recipe, but also told me what foods to enjoy, and which to avoid.
I am just so thrilled to have gotten these publications. Thank you, Sara!

~ MaryAnn Lavender Poems ~
Buy NOW…. and let 2017 be a year of a
Healthy Pretty Happy Lifestyle
.
.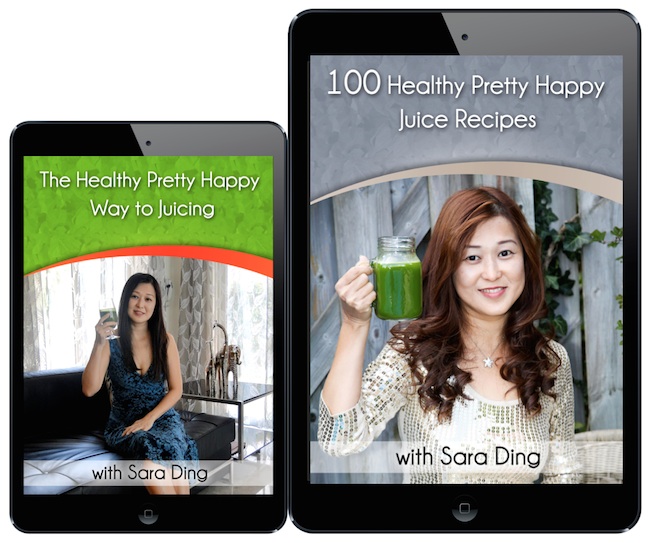 .
BUY BOTH JUICING FOR HEALTH eBOOKS @ ONLY US$6.95
You will need an Adobe Reader
.
They will display beautifully on your iPad and iPad Mini. (Read in iBook)
or any tablet that reads PDF document.
.
EASY to carry around in your handbag … for when you go grocery shopping …
or for discussing with your juicing buddies.
EASY way to keep your juicing recipes handy in the kitchen.
.
The contents in these ebooks are personally researched and written by Sara Ding. This ebook is NOT for resale.
NO part of this ebook may be reproduced or transmitted in any form by any means.
.
---
THANK YOU!
Thank you for purchasing the Healthy Pretty Happy Lifestyle Series eBooks with Sara Ding.
I will be honored if you can share how these books have helped you, or feedback what you would like to see in future editions.