Defeating cancer and other chronic diseases
By Charlotte Gerson with Beata Bishop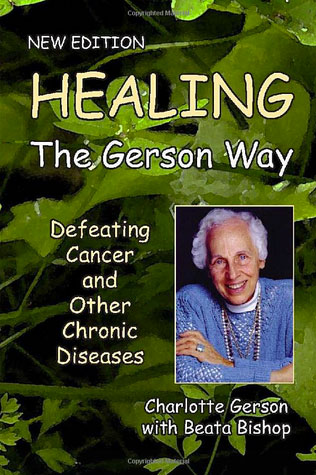 ---
---
This book was written by Charlotte Gerson, daughter of the late Dr Max Gerson, founder of the Gerson Therapy. The Gerson Therapy is one of the most basic, most recognized, respected, and effective nutritional healing therapy that has existed for more than six decades.
I am a huge believer of the Gerson Therapy, having seen how it has helped a few cancer patients I know. The therapy doesn't treat the symptoms but aims to defeat the enemy at the root cause. It helps build the body's immune system to fight the cancerous cells, then constantly flood the cells with optimum nutrition.
This book is relevant NOT only for cancer but ANY degenerative diseases because cancer IS and should be treated as a degenerative disease.
I read this 400-page book cover-to-cover and am amazed with the testimonies of how people are helped with the most severe condition. I've also heard Ms Gerson speak, so I trust how she takes healing very seriously. This book is about coffee enemas and a lot of dos and don'ts for cancer patients following the Gerson Therapy. Strictly for those who are serious about getting well again.
---
---
See videos on Gerson Therapy here.

---
---