Your face is the window into gaining insight about the health of your internal organs. In fact, skin issues, like dry patches, redness or acne can be directly connected to the inner workings of your body. With that, face mapping has become an effective and popular tool to pinpoint internal health ailments and address the issue accordingly.
---
---
What Is Face Mapping?
Face mapping, especially the location of your acne, has been a tried and tested method of diagnosing health ailments. As an ancient practice rooted in Ayurvedic teachings, face mapping has been celebrated as a non-invasive method of treating multiple maladies and conditions.
This practice rests on the belief that your skin's health (especially on your face) is directly connected to an organ of your body. In other words, looking at your exterior aesthetics is the key to identifying internal organ health.
Diet And Lifestyle Face Mapping
From smoking to hormonal imbalances, your face may be trying to tell you something! Externally-induced health issues, such as stress, can lead to acne flare up on your skin. Nearly all of these conditions or substances are within your power!
T-Zone
Poor circulation
Puberty
Stress
Coffee
Alcohol
Cheeks
Bacteria build-up from cellphones or dirty pillows
Excessively touching your face
Smoking
Chin, Jaw and Neckline
Candida
Processed sugars
Hormones
Excess starchy foods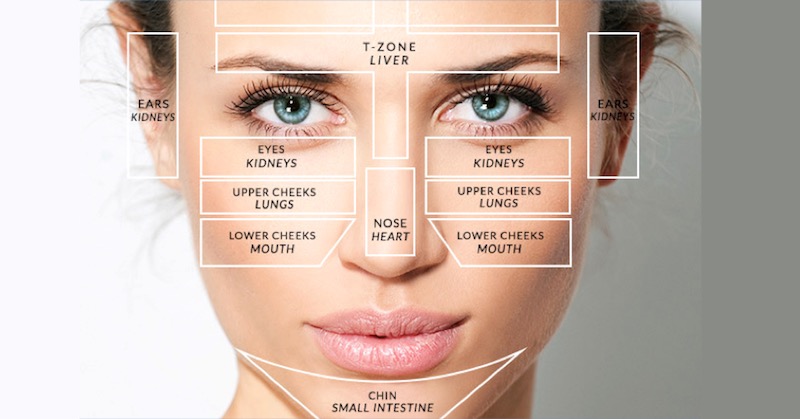 ---
---
Face Mapping By Organ
While the list above may help pinpoint diet and lifestyle acne-provokers, pinpointing the location a variety of skin flare-ups have proven to also be directly linked to specific internal organs. In other words, if you've ruled out the health issues above, locating the specific organ at risk could be your next step.
Forehead: Poor digestion, toxin buildup and dehydration. Try drinking more water and green tea throughout the day to flush our unwanted build-up and neutralize toxins.
T-Zone: Directly linked to your liver. In fact, alcoholics with liver damage from causes like cancer have been known to develop acne on noses. If you have persistent acne in this area, this could be a signifier of liver dysfunction.
Eyes: The delicate skin around your eyes is connected to your kidney health. If you always have dark under-eye circles, this may signify poor kidney function, malnutrition or dehydration.
Upper cheeks: Linked to lung health, your upper cheek skin issues could indicate that your are inhaling high quantities of polluted air.
Lower cheeks: Covering your gums, lower cheek acne issues are indicative of poor dental hygiene. Remember to regularly brush and floss your teeth, while avoiding sugary foods and drinks.
Nose: Your nose is linked to your heart. Swelling, redness or acne on the nose have been linked to high blood pressure and hypertension. Try reducing salt and increasing your heart-healthy fruits and vegetables to lower blood pressure.
Chin: Linked to your small intestine and overall digestive vitality. Curing chin issues is highly dependent on a healthy diet, which thankfully means, it can be bettered by small lifestyle changes to keep your digestive tract running smoothly.
Sources:
http://thewhoot.com.au/whoot-news/diy/face-mapping
http://www.mindbodygreen.com/0-18257/face-mapping-what-your-skin-says-about-your-health.html
---
---
---
---
---
---