Ouch! A stiff neck can really ruin your day. Neck pain like this is characterized by having a difficult time moving your head from side to side without pain. A stiff neck might also come accompanied by shoulder pain, arm pain, and a headache. A stiff neck is usually caused by a soft tissue sprain, often to the levator scapula muscle.
---
---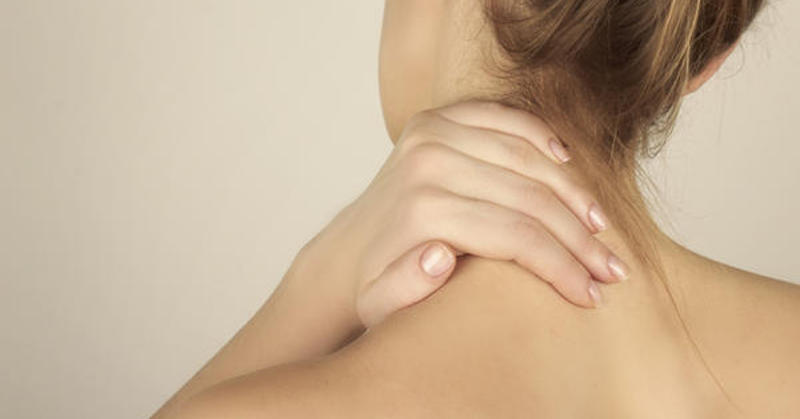 Causes Of A Stiff Neck
The most common causes of neck pains include (via Dr. Axe):
Fast, usually repetitive movements of the cervical spine, such as during exercise, lifting objects around the house, or when driving and jerking the neck suddenly.
Muscle strains around the neck and shoulders; these are most often caused by poor posture that affects the cervical spine (including while working, holding the neck in an abnormal position to talk on the phone, when reading or doing leisurely activities, exercising, or sleeping)
Underlying cervical problems: including bulging discs/herniated disc, cervical degenerative disc disease, osteoarthritis/degenerative joint disease, spinal stenosis or bone spurs.
High levels of stress or anxiety; this causes increased muscle tension and inflammation, plus stressing over the pain itself often causes it to worsen!
Poor sleep (sleeping awkwardly) and general lack of rest.
High levels of inflammation caused by a combination of a sedentary lifestyle, poor diet, smoking and toxin exposure
In some cases, underlying health conditions that cause an inflammatory response, like infections such as torticollis or rarer neurologic diseases like meningitis, subarachnoid hemorrhage and posterior fossa tumors can cause a stiff neck. Other symptoms such as a high fever, headaches, persistent back pains along the spine, nausea or vomiting, and fatigue/sleepiness mean you should consult your doctor to rule out other conditions.
Dr. Axe also says:
---
---
Neck pains often stem from the spinal cord and are caused by certain (usually temporary) changes in nerve signals. The neck is highly susceptible to stiffness, strains and tightness because of its mobility, range of motion and the vital role it plays in supporting the head through everyday movements.

The intensity of a stiff neck depends a lot on the person and the cause of the pain. Some only experience mild, short-term pain while others deal with extreme soreness, tightness and trouble operating normally.
10-Second Towel Trick
Surprisingly enough, one of the best ways to alleviate this pain involves a rolled-up towel! Physical therapists often use rolled-up towels to properly soothe hurt muscles, using the body's own weight as a way to perform a gentle stretch.
---
---
In this video from the care4body YouTube channel, we can observe the proper placement of a towel under the shoulder on the side of the affected area and the proper placement of the arm above the head. Notice how happy the young woman is when her pain is gone within ten seconds, and be sure to try this gentle technique at home!
This article is shared here with permission from our friends at positivemed.com.
Sources:
http://positivemed.com/2016/02/23/get-rid-of-your-stiff-neck/
http://draxe.com/stiff-neck/
---
---
---
---